This Hobbit house is called the Mushroom House and it is located in Whistler, Canada. It took Zube, the artist and creator of this Hobbit house, 22 years to achieve and develop a house which seems as a reminiscent of Tolkien and Lewis.
The interior design of this Hobbit house look-a-like is based on the anatomy of a tree. Meticulously crafted with beauty and functionality, the Mushroom House has a kitchen and an open, all-accessible living room designed with hardwood flooring, mosaic and stonework.
The door leading onto the balcony is a masterpiece of stained glass and cedar, letting the sun flood the room with warm, pure sunlight.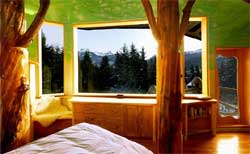 The first bedroom has an open bath with detailed mosaic flooring and a 6/15 ft window with unobstructed views of Wedge and Armchair Mountains. You can see for miles, but you feel tucked away, up in the trees, safe and tranquil.
The sauna is an intimate lagoon, reflecting the richness of deep soil and deep forest. Hot water runs through The Mushroom House handrails to feed the waterfall that cascades from the wall.