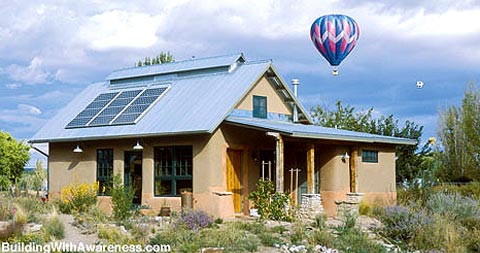 Located in New Mexico, this small house (less than 800 sq. ft.) generates all of its own electricity. By the use of green construction materials this compact home incorporates passive solar heating and cooling, where straw bale exterior walls insulate and interior adobe thermal mass walls absorb heat.
Building small saves money in the construction costs and greatly reduces energy costs. With a 14 feet high ceiling, this home gives a spacious feeling, however be aware that warm air rises to the highest point of the ceiling, nevertheless in an energy efficient and compact home as this one it was worth it.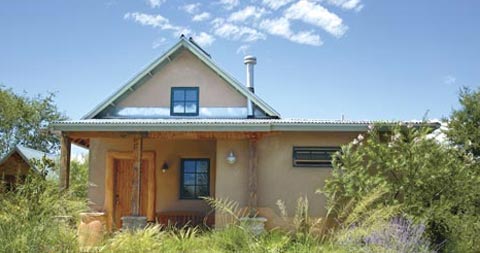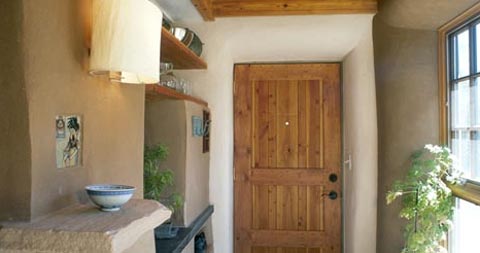 The compact kitchen includes cast-in-place, stained black concrete counters and inexpensive open shelves, kitchen sink and tiles. In order to store solar energy, natural gas-heated hydronic heating tubes are embedded in the beautiful 4′ thick, acid-stained concrete floors in the dining area.

A recycled, horizontal beam supports a vaulted ceiling loft space with a pullout ladder. It has plenty of storage on either side of the room and a small window above the bed to ventilate the warm air out.

In order to make this small space seem larger, the living/dining room is defined by a low wall and a bookcase. A Japanese technique of changing floor height is also used, where the space below the raised floor provides extra storage space, which can be accessed through two panels that lift up in the recycled oak floor – How cool is that?!