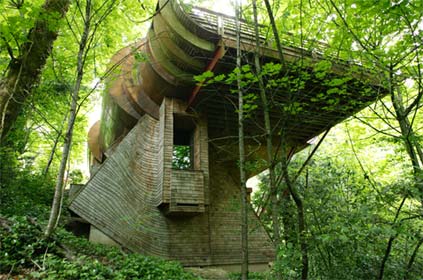 Forget what you thought you knew about architecture, because this house will blow your mind; the layout of the house, the views and the sheer architectural artistry and imagination which made it come to life.
The Wilkinson Residence, designed by architect Robert Harvey Oshatz, is a one of a kind piece of architectural art. Located in Portland, Oregon, this house architecture design and location bring the main level of the house into the tree canopy to evoke the feeling of being in a tree house. I call it, the house that flows.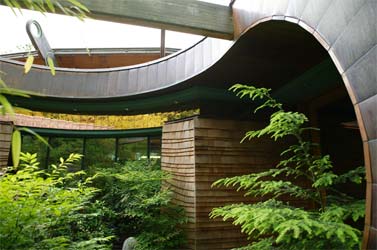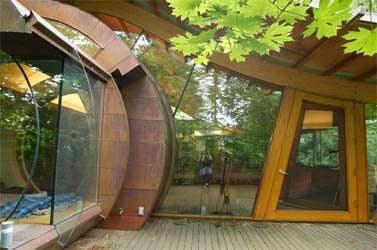 The client asked for a house that not only became a part of the natural landscape but, also addressed the flow of music. This unique design uses a natural wood ceiling which floats on curving laminated wood beams and glass walls.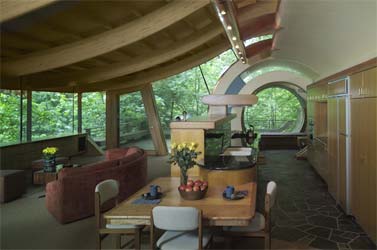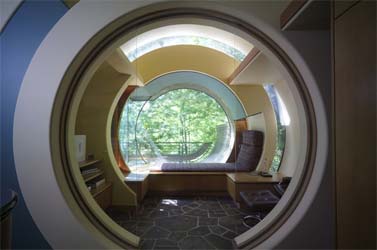 I love how the spaces in this amazing house flow inside and out – One has to actually stroll through the house to capture it's complexities and it's connection to the exterior; it seems as if the house almost wraps itself around you.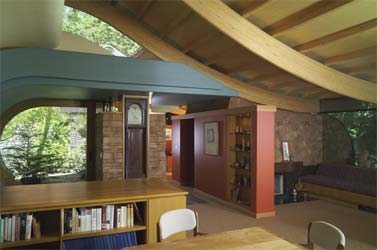 "An architect is an artist, creator, logician of evolving aesthetic structures; a designer of not only the visual but the internal space. I see architecture as a synthesis of logic and emotion, exploring and fulfilling the dreams, fantasies and realities of my clients, whether they are individuals, corporate, or community identities…Architecture is a synthesis of logic and emotion. When carried to its logical conclusion, a traditional design approach produces very imaginative structures. It is only a question of how much of an artist we architects choose to be." – Robert Harvey Oshatz.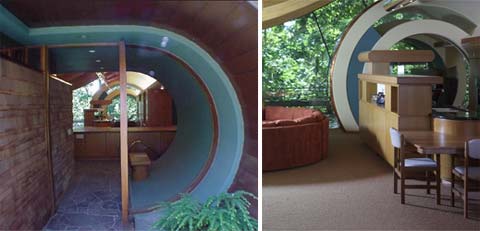 Check out Lee's interesting comments below as he brings us an insider's view of the Wilkinson Residence project – "I worked on this house for two years. I split time working w/ Oshatz on the working drawings and in the field managing the project and being a carpenter (including 6 months doing all the cedar shingling on the exterior and interior)…"