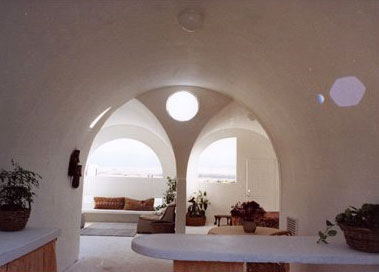 Interested in sustainable living? Take a look at the earth Superadobe home by Iranian architect, Nader Khalili. Living in a house made of earth may sound a bit off-the-grid; however, earth architecture is a proven form of sustainable living. Did you know that approximately one third of the world's population live in earth houses ?
For centuries, sandbags have been used as building elements for temporary structures and protective walls only to be emptied and discarded after serving its purpose. Made from common sandbags and connecting barbed wire, the Superadobe earth home is a curved structure creating the form of a dome or vault.

The Superadobe home is arranged as three offset vaults allowing maximum view, spaciousness, light, and interior ventilation throughout the house open plan area. The basic unit provides a 3 room, 400 square foot earth house that can be easily erected within weeks by a few unskilled laborers. The interior arches and vaults design is beautiful and unique while the house can be easily extended by adding circular dome elements to the original form… it reminds me of the prefabricated Dome House.
Earth architecture is a highly sustainable form of living; the environmentally-friendly Superadobe design uses on-site earth, which can save up to 95% of timber, allowing not only for forest products to be more wisely utilized but also resulting in fire-safe buildings. It has non-toxic interior finishes, utilizes solar and wind energy for passive cooling and heating and is highly affordable in terms of low material costs.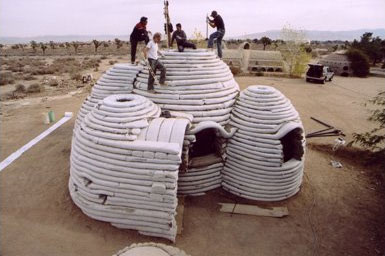 A prototype 3-Vaulted house has been tested and approved for California's severe earthquake codes and natural elements. This unique form of green building can withstand extreme climate conditions, such as freezing winters, over 100 degree F summer temperatures, flash floods and high speed winds… amazing!