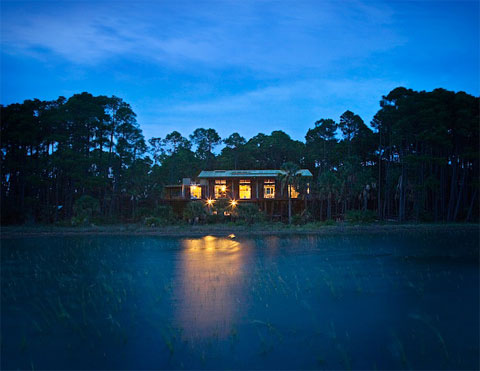 This prefab cabin is an an off the grid house on a small coastal island near Charleston, South Carolina. The cabin's prefabricated construction and sustainable technology conform to the area's extreme coastal storms, rain, floods and wild fires, making it an ideal disaster housing solution.
The 3,900 sq. ft. structure is based on a prefabricated steel frame combined with insulated panel technology; it touches the ground lightly, supported by a number of columns; solar panels provide thermal water heating and photovoltaic electricity production; composting toilets collect waste and a leach field handles the gray water; windmill power will supplement electrical needs, and back-up generator will be used only when necessary; a water catchment system will collect rainwater and store it for household use – all providing off the grid planning and living at its best!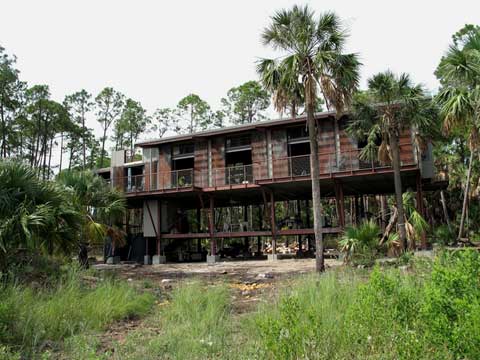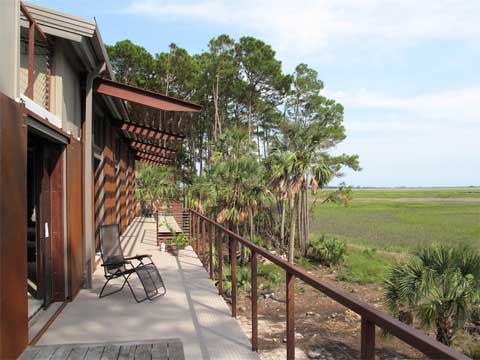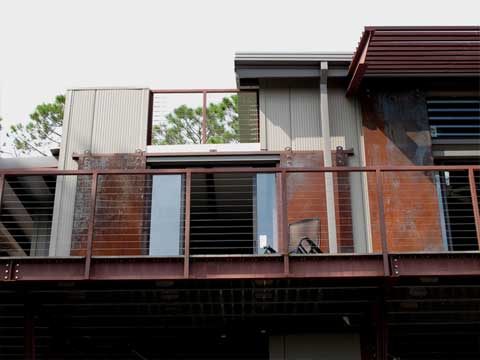 Taking on the extreme climate challenges of this coastal site, this prefab features a layered series of large sliding doors: insulated storm doors and shutters shut down the entire structure during Atlantic storms, while keeping in heat during the winter nights, and conversely lower temps during particularly hot summer days; sliding glass pocket doors provide passive ventilation; and louvered wood doors provide shade and ventilation during the hottest days of the year.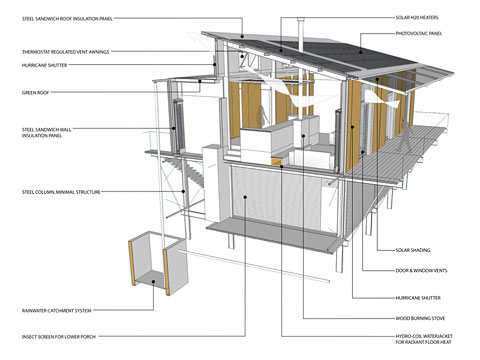 The interior planning of this rugged coastal home is also smart and effective, where during winter months a wood burning stove serves as the center of activity across the large open plan layout; bathrooms and utility rooms are all grouped along the north wall, allowing for the public areas to take advantage of the south facing views and maximum flexibility, while allowing for maximum ventilation.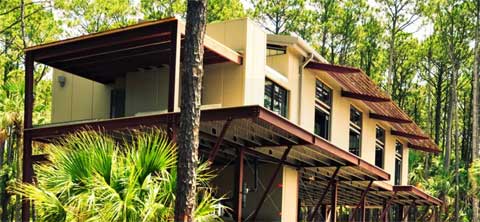 The upper level, with its expansive decks, takes advantage of the views and ocean breezes, whereas below the main house, within the flood zone, an open screened in porch provides an area of refuge away from the heat and insects within the tree canopy.