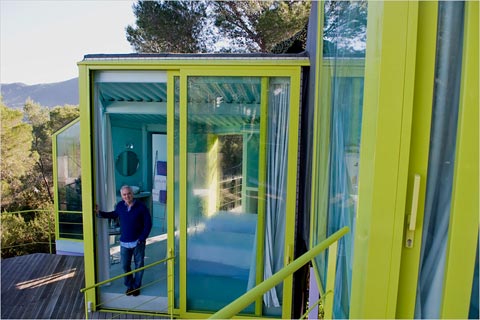 This modern house is both unique and colorful; it's located in the island of Ibiza, an hour's flight from the beautiful city of Madrid, and was built with one primary goal – to have as minimal impact to the surrounding landscape as possible. It is the second home of an art fair promoter, who was looking for a getaway retreat to spend his weekends and free time; inspired from Peter Pan, he calls it Never Never Land.
This contemporary five-bedroom home is raised by stilts above the ground, following the contours of the steep slope site; the plot wasn't flatten and no trees were felled during construction, instead they were incorporated into the home interior design, with tree trunks running through the floor and ceiling and popping out the roof. Construction took two years and approx. 500,000 euros.
The structure consists of three cabins, independent from one another but linked by shared living spaces; one cabin is for the kitchen, living room and main bedrooms, while the other two are for guests.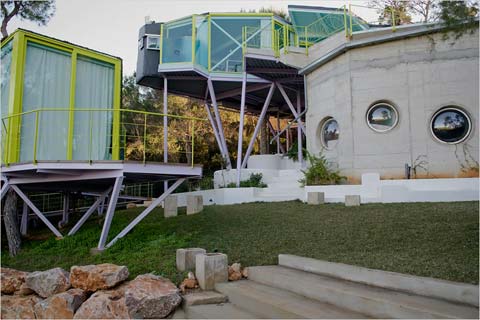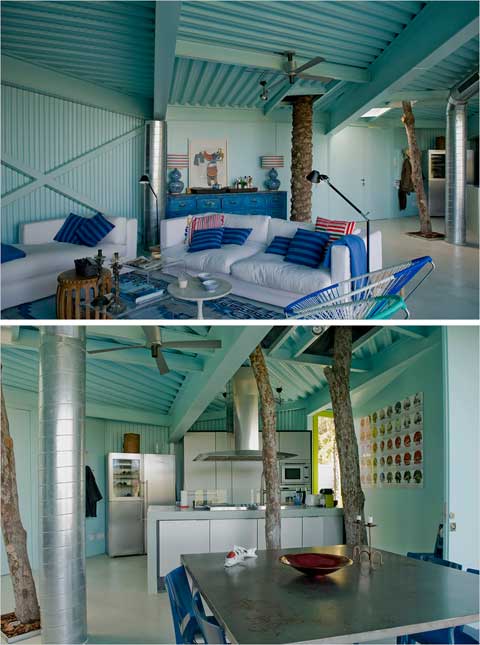 Each of the cabins feature enormous glass windows, which were transported from Madrid, overlooking breathtaking view of the woods tumbling down to the beach. The units are constructed of metal frames topped with concrete, to keep them cool in summer.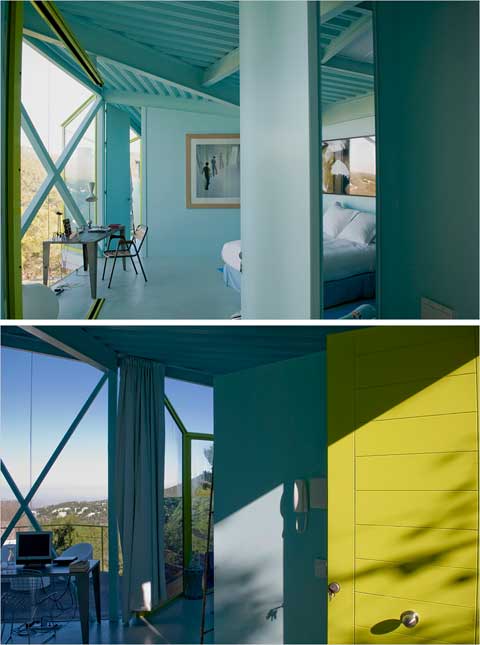 This coastal home is truly colorful; frame and stilts were painted purple, for fun, combined with bright yellow-green railings, inspired by the color of the youngest leaves in the valley surrounding the home; inside, the walls are painted sky blue. Who needs formality when you're on vacation?
The space below the home features a recreational room complete with a ping pong table, a dart board, large speakers for parties, and access to a wonderful infinity pool.