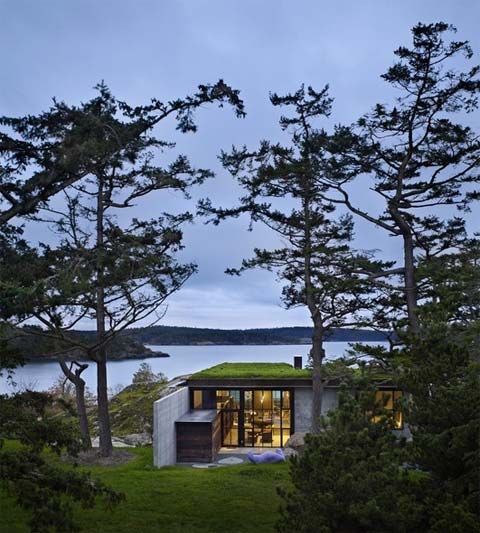 This award winning coastal home is located in Washington's beautiful San Juan Islands. The house name, Pierre, is the French word for stone, and as its name indicates, the structure truly celebrates the materiality of the site, nestled into the rock, as if it was set in stone.
I love how this amazing house interacts with its surroundings; with its rough materials, encompassing stone, green roof and surrounding foliage – it almost disappears into nature. Large drills and hydraulic chippers were only a few of the methods used to set the house deep into the site, whereas excavated rock was re-used as crushed aggregate in the concrete flooring.
The facade consists of double-height glass, while concrete walls support both sides of the structure. With the exception of a separate guest suite, the house functions on one main level, with an open plan kitchen, dining and living space.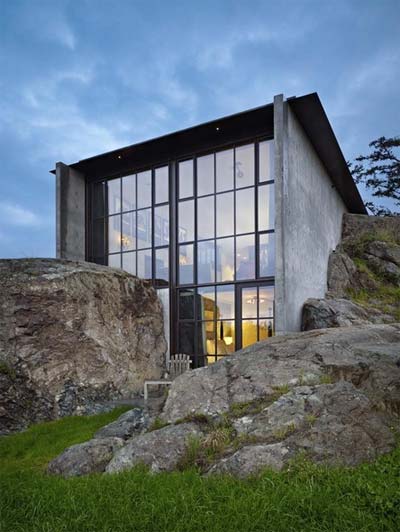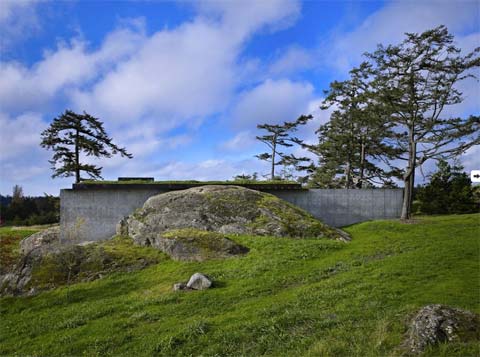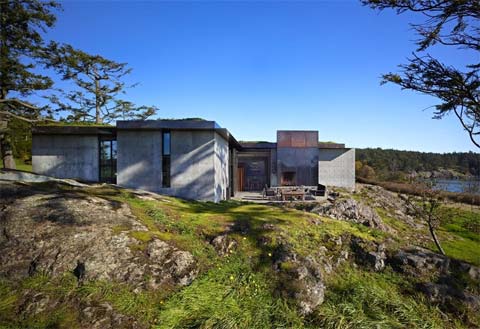 Inside, the interior design features luxurious pieces of antique furniture, custom light fixtures and beautiful artwork; interior and exterior fireplace hearths are carved out of existing stone; a wood-clad storage box transitions from outside to inside the house. Its two large bookcases open to provide concealed access to laundry and kitchen storage; a large pivoting steel and glass door opens for access to an outdoor terrace; set at a right angle to the main spaces, a master suite features a custom designed bed with a leather headboard and footboard set in the middle of floor to ceiling bookshelves.