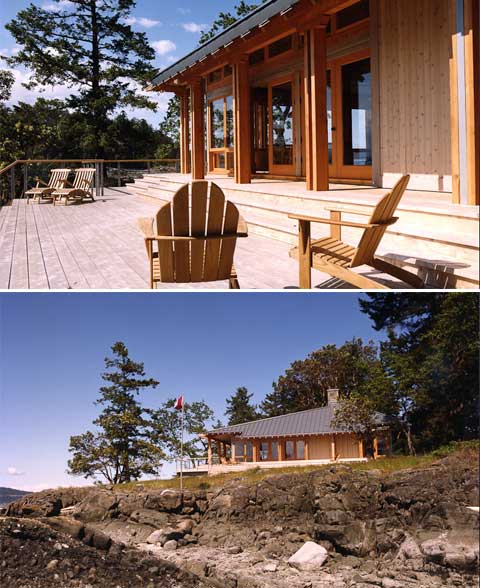 This award-winning house is a small coastal home, a seasonal retreat on a small private island off the coast of Vancouver Island. This house was built with a clear compact plan, which would preserve, protect and complement the natural beauty of the site, while taking advantage of its natural aspects.
The main structural frame is made of heavy timber; three trusses clear span the width of the building, and the interior incorporates natural materials such as wood and cork – no painted surfaces or drywall. By the way, I love the combination of wood and industrial steel in the kitchen, making it contemporary yet warm and inviting.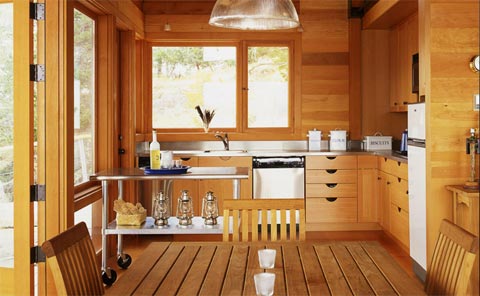 Minimal impact on the land has been combined with minimal maintenance; excavated stone has been reused for exterior retaining walls; exterior decks, made of untreated yellow cedar, are left to be molded by the weather, and when not in use, the house shuts down via a system of sliding and folding lockable shutters.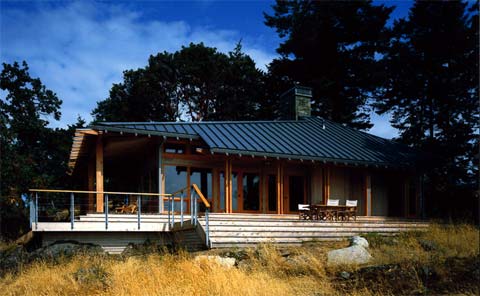 Spaces around the house enjoy natural light coming in through large glass openings; the living area consists of comfortable, toned-down pieces of furniture and a massive central stone fireplace.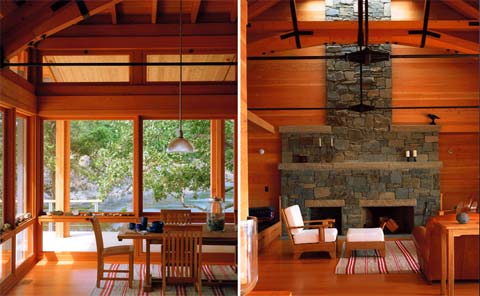 Being an island getaway, the house takes advantage of its wonderful coastal location, overlooking water on two sides with a deck off the dining area.