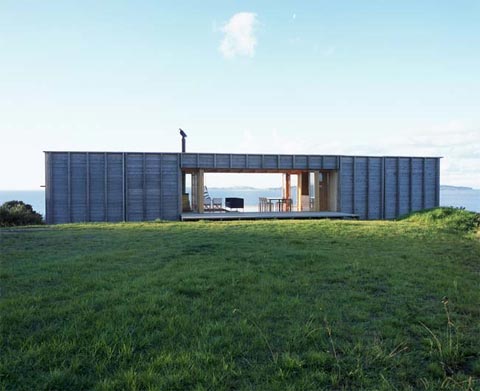 This award-winning, coastal getaway is actually a recycled shipping container, that sits lightly on a seaside cliff in Coromandel, NZ. It belongs to the Crosson family, and is an attempt to provide an environment to capture the essential spirit and beauty of New Zealand.
The structure is a reinterpretation of the New Zealand building tradition – the crafting of wood – the expression of structure, cladding, lining and joinery in a raw and unique way.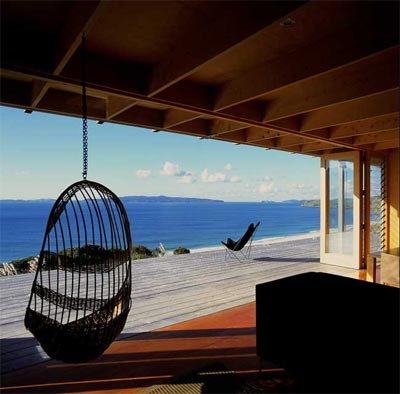 This holiday home is based on heavy vertical structural members supporting horizontal boarding. A simple box that features untreated, natural timber and a simple mechanism that allows the "box" to open up on arrival – providing a stage for living – and to close down on departure – providing protection.
The house is like a rural shed, with a simple rectangular plan, sitting in a patch of cleared bush, facing vast ocean views; the living room is open to the outside and the sun, while bedrooms, or should I say bunkrooms, are enclosed and kept cool.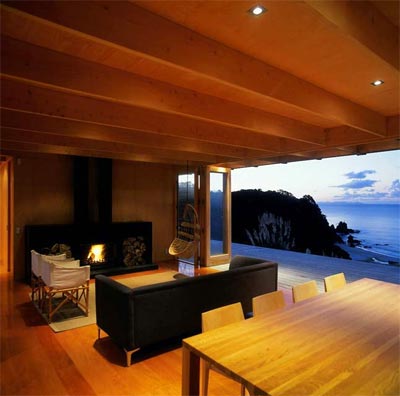 Everything in this place is connected to nature; from the large fireplace to the open bathroom and movable bath. I love the fact that even intimate tasks, such as showering and bathing, can become connected to nature in such a simple act of simply drawing the curtains.