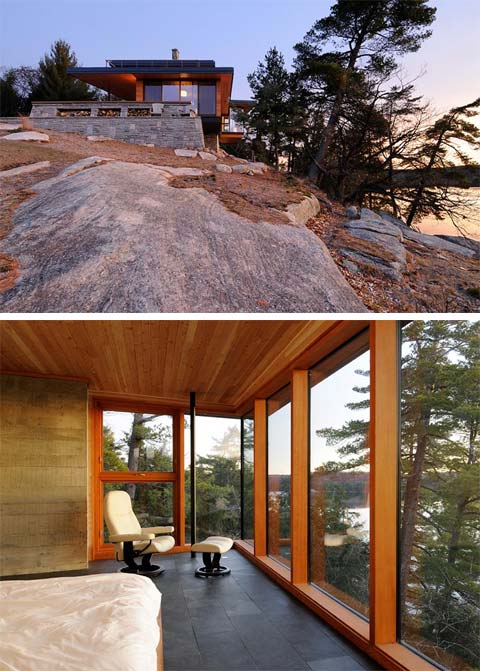 Set on a rugged rock formation overlooking one of Ontario's spectacular lakes, the Cliff House is a beautiful piece of architecture. This coastal retreat isn't just pretty on the eye, it is self sufficient and completely off-grid, in-tuned with the site's unique views, light, and breezes.
As the name already suggests, the Cliff House emerges form the cliff and rests on a local granite base. The structure is based around a tall central void, that serves as an anchor to living spaces that extend into the landscape.
The house consists of finely crafted materials: stonework, wood ceilings, and structural board-formed concrete walls; cantilevered volumes, flying roofs and floor-to-ceiling glass walls reflect lightness and bring lake views into every room.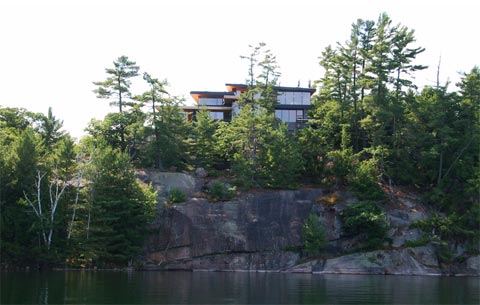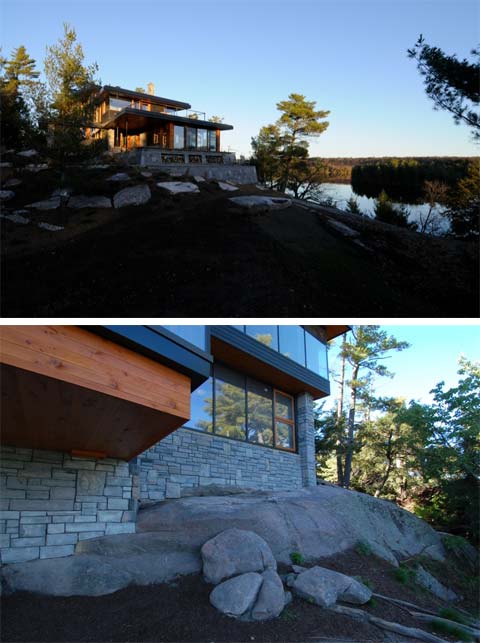 Through smart design and by combining passive and active systems, the architects achieved a completely self-sufficient, off-the-grid 3,200 sq. ft. family home, that is both comfortable and elegant, forming a strong connection between building and landscape.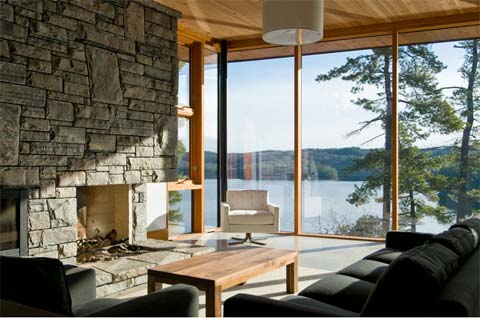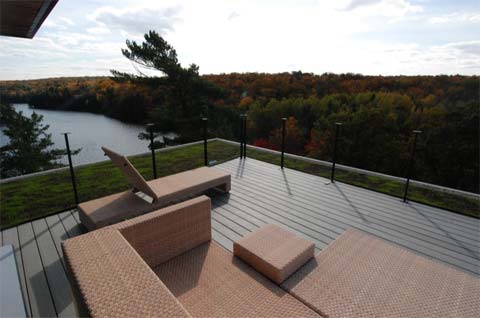 In summer, solar shading limits heat gain while operable windows create natural ventilation; green roofs mediate temperatures and control runoff; super-insulated glass work and solar orientation combined with the thermal mass of concrete slabs and stone walls, form the basis of the heating system.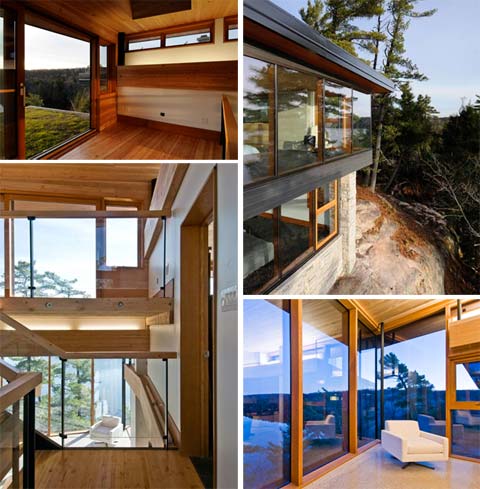 Two contra-flow masonry heaters (ultra clean burning) in the fireplace cores take full advantage of abundant biomass available on site for supplemental heat; an array of evacuated tube solar collectors use the sun's energy to heat water that circulates through 10 thermal storage tanks; this massive store of energy supplies hydronic radiant floor heating and provides domestic hot water; a series of photovoltaic panels and battery bank provide the building with electricity; electrical loads have been carefully managed and are minimized through the use of energy efficient appliances and LED and compact fluorescent lighting.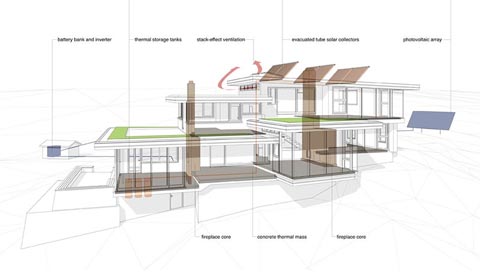 Sustainability features include:
Program and Spatial Optimization
Integration with the 'Natural Assets' of Site and Terrain
Site Specific View and Vista Optimization
Passive Solar Heating (Thermal Storage Mass)
Natural Ventilation and Passive Cooling
Natural Daylighting
High Performance Envelope Design
Renewable and/or Recyclable Materials and Finishes
Indoor Air Quality (IAQ) and Non-toxic Materials and Finishes
Advanced Wood Heating Systems (ie. Contraflow Masonry Heaters)
Radiant Heating
Heat Recovery Ventilation
Solar Hot Water Systems (Domestic and In Floor Radiant Heating)
Solar Electric (photovoltaic or PV systems)
Wastewater Heat Recovery
Low Energy Lighting & Appliances (LED, CFL lighting and Energy Star appliances)
Water Conserving Appliances & Fixtures (low flow/ dual flush toilets)
Green Roof Systems