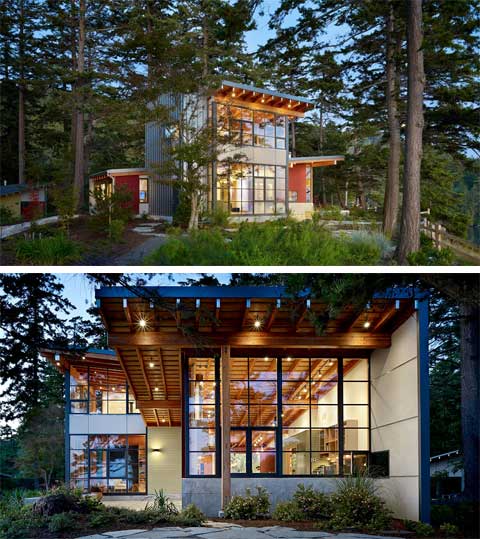 When I took the first look at the Chucaknut Drive Residence, situated on the coastline of Washington State overlooking the San Juan Islands, I thought to myself: "We've seen it long before! Is this going to be called the new architecture? But that's just like the 30's with their window divisions, large glass areas, and simplistic facades… Beautiful? Yes, but nothing catchy."
However, something made me take a second look at this lovely coastal home. Perhaps it was the charming peaceful nature the house resides in and therefore has to confront it. But is 'confronting nature' the right expression for this project? Looking at the large quadrate-divided window facades of this 1,400 sq. ft 2-storey home, and the wooden structure of its roof, I suddenly felt I should look out of the window from the inside of the house and… that was it! I got the idea of the architects! Take a look yourself…
Just think about the concept of utilizing nature as an interior element for the living room… Welcome back to Mr. Right's ideas: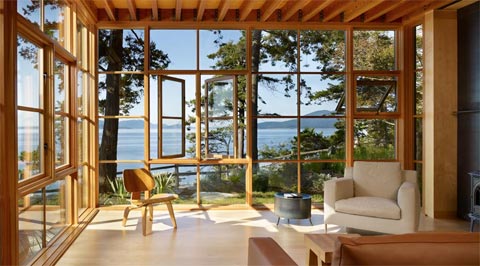 Nature as the vital surrounding.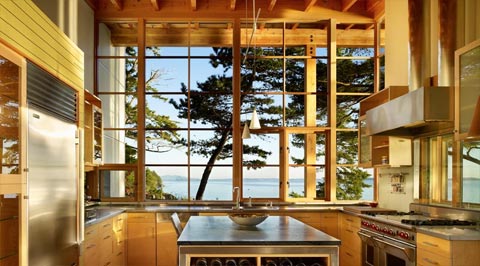 Do I still regard architecture as something that confronts nature? Oh no, you just want to stay there – in this living room, in this kitchen – and enjoy nature!
Needless to say, that due to the wonderful interior design we are able to focus on the natural surroundings so well. Naturally (excuse me for the pun), you don't need an active interior when you have such views from your window. The interior design has to be minimal and natural. Which is exactly the case of the Chucaknut Drive Residence: light natural colors, simple shapes, "human'' scales.
I'm not afraid to say that nature is speaking to us – "poor"urban residents – by means of this house. Perhaps, while there is only a remote chance of that, we would get enough inspiration to get out of the city and enjoy the tranquility and beauty of nature.