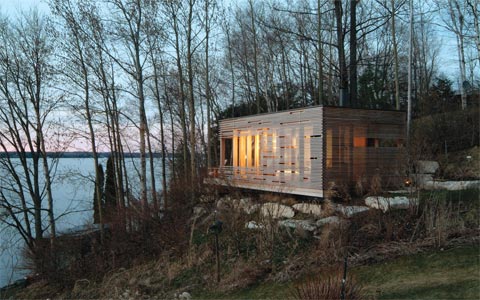 Picture yourself on a slope of a beautiful lake´s shore surrounded by trees waiting for the sunset. Now imagine a private retreat where all of this is possible while lying down in bed or even while having a shower. That´s Sunset Cabin!
This beautiful project consists of a single 275 sq. ft. room with panoramic views over the southern shore of Lake Simcoe, in Southern Ontario, Canada. Apart from the main cottage, there's this modern prefab cabin, which I'd like to refer to as a minimal 'primitive hut' with a bed, a wood-burning stove and a wall of storage cabinets on either side.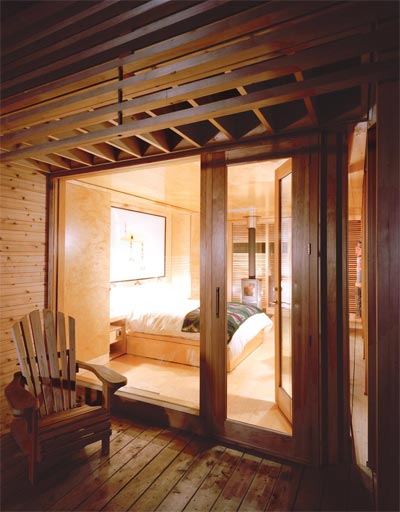 All interior surfaces are fabricated of birch veneer plywood. The floor of the cabin extends outside towards the lake to become a deck with access to an outdoor shower. But the most incredible is yet to come! A wooden screen made out of cedar slats (for privacy and sun shading) 'dresses' a fully insulated glass structure.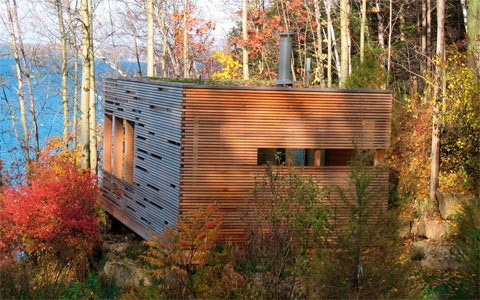 A large cut-out in the screen provides spectacular sunset views from the bed, while gaps between the horizontal slats increase arbitrarily as the cabin gets closer to the lake. A green roof planted with sedums and herbs sets the perfect solution for camouflage views of the cabin from the main cottage. In fact, this 'man-made chameleon' is continuously transformed by the change of season and time of day.
During the day, the openings within the screen filter the light into shifting patterns on the interior. At night, the effect is reversed and the cabin radiates like a lighthouse. One final note: all components were prefabricated in 4 weeks and reconstructed on site in just 10 days. No vegetation was harmed during this process…