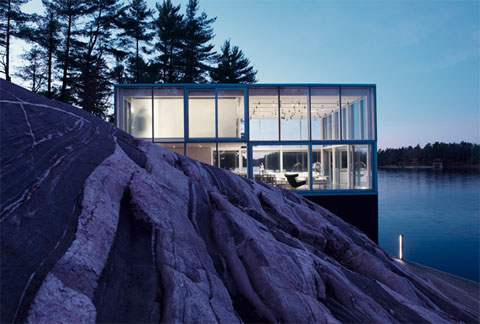 It's simply astonishing…On the edge of a lake in Ontario, Canada, there´s a wonderful architectural masterpiece! A reinterpretation of the archetypal glass pavilion in a landscape houses an apartment, studio and boathouse for a photographer.
This beautiful coastal home features a rectangular plan of only 54 sq. m. that seats the stage for a generous open configuration: boats are stored at the lake's water level while the studio and apartment are placed on the upper floor and mezzanine above.
The entry of the site is made without disturbing its natural state. A mineral path leads into a small entrance courtyard with trees. A dark granite plinth supports the glazed upper walls of the building, turning it into a lantern-like effect. In fact, the transparent facade becomes the essential element for obtaining an outstanding natural illumination, while enhancing the appreciation of the surrounding context.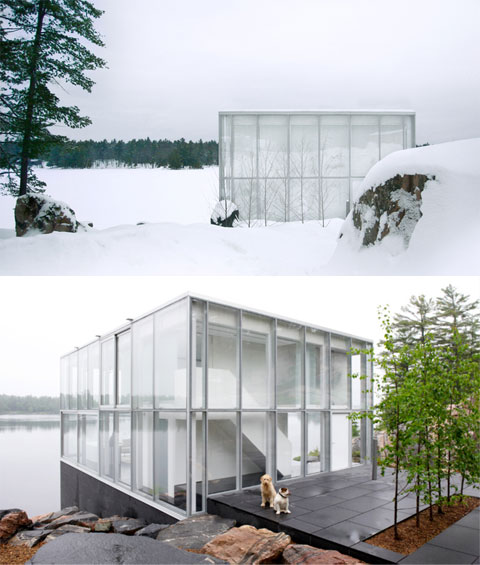 The changes of both season and time of day continuously transform the glasshouse presence and dynamics with the landscape. Also a continuous blind system serves as a second skin, transforming the interior into an enclosed space and the exterior into a gently reflective mirror.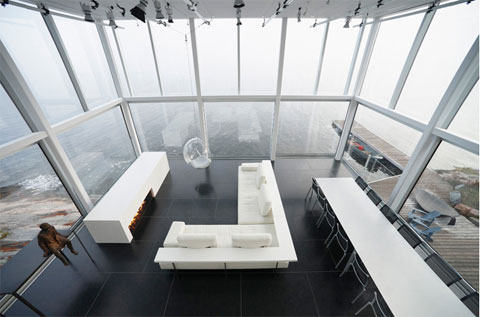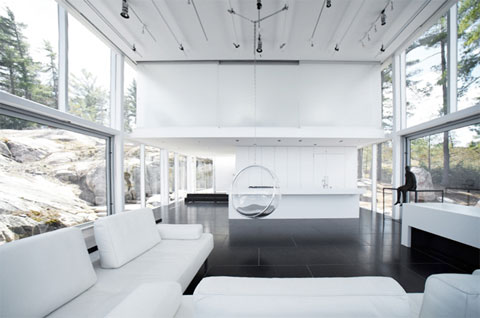 Domestic facilities are integrated into a furniture-like mezzanine assembly placed above the main space, where bedroom, bathroom and closet are coextensive. All interior partitions are clad with white lacquered panels whose reflective qualities diffuse light into every part of the house.
During warmer weather, the large windows can slide open for ventilation while the black granite's thermal mass exploits the solar input for winter days. A fine example of how sustainability and Eco-friendly solutions always improve our relation with Mother Nature. For real!