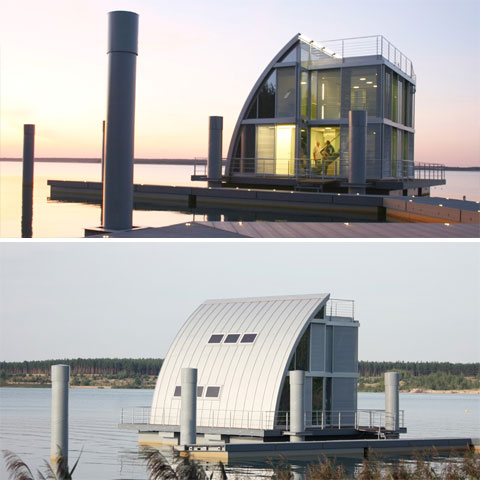 Enjoy living above water at the Lausitz Resort…or in any another part of the world! Water is the crucial reason for the existence of the Floating House by Steeltec37. A floating prefabricated house that looks like a boat is statically positioned by a small pontoon bridge. This two-level metallic structure follows the industrial fishing boats aesthetics.
The entrance to the house is connected directly with the pontoon bridge. Ground floor has a generous open space for dining room, kitchen and toilet and also a staircase to the upper floor. A large space for the living room (with a splendid view over the surrounding landscape) gives access to a bedroom in the first floor.
Actually, the building's volume and facade treatment reveals the clear separation between private/service areas and social areas. While the living and dining rooms have huge windows to illuminate and extend visually the interior, the private and service areas are more closed.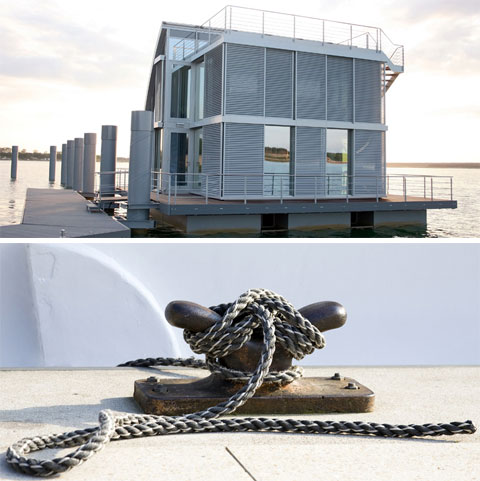 Small square windows disposed in a curved metal wall provide ventilation and light to these interior divisions. In fact, this particular wall (that suddenly reminds a big wave!) turns into a roof along with the terrace reachable through an outside metallic staircase.
An exterior brise-soleil system serves as a "metallic curtain" giving more privacy to the interior. Throughout the upper and lower levels, walls and ceilings are painted white diffusing light into every part of the interior. Floors are made out of dark wooden planks to achieve maximum comfort while walking…always above water!