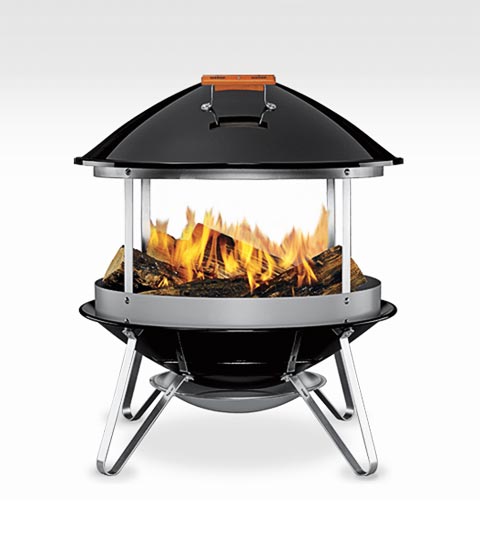 For most of us in the northern hemisphere, the weather is propelling us outdoors to enjoy the warming temperatures and the smell of blossoms in the air. And when the cool evening air creeps around, there's no need to go inside if you're in the company of Weber's wood burning fireplace. Just gather round and enjoy a cozy ambiance at dusk, in simple solitude or with your favorite people. That's what this outdoor fireplace is all about – after all, Weber says it themselves "perfect for creating lasting memories".
The fireplace is made of porcelain enameled steel, which means it's super tough and durable, made to withstand the elements and the test of time. The wooden handles sure look pretty, contrasting the glossy black finish and metallic trim. But they also serve an important function. The wood allows for safe handling of the lid, which can be used to safely and securely put out the fire when it's time. All you need to do is easily remove the support ring and place the lid directly over the base. Voila. Fire extinguished, easy as 1, 2, 3.
The Weber fireplace measures 32 inches in height and 31 inches in width, making it a compact fireplace that can be easily moved around. Take it with you to whatever corner of your garden or outdoor space you're in the mood for that day. Add that to its durable construction and you've got a pretty loyal and versatile outdoor companion.
Buy This Item