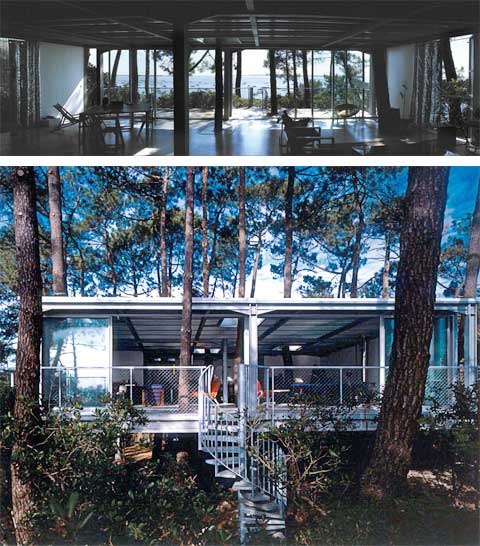 Let me tell you about a steel prefab home in Cap Ferret, France… This contemporary coastal home sits on one of the last remaining non-built sites at the shoreline of Arcachon Bay, where an irregular soil of sand dune is covered with vegetation and 46 tall pine trees that descend towards the beach…
By utilizing a prefabricated structure the architects obtained fine results such as avoiding site destruction and also the waste of time related to traditional construction methods. Now tell me, how does a 180 sq. m. building area not disturb one single tree or vegetation?
It's simple: to exclude earthworks which are particularly harming for a ground surface of sand, twelve micro-piles are driven eight to ten meters deep. On top of this, a metal skeleton frame has been assembled so that the house can profit from the magnificent views over the bay.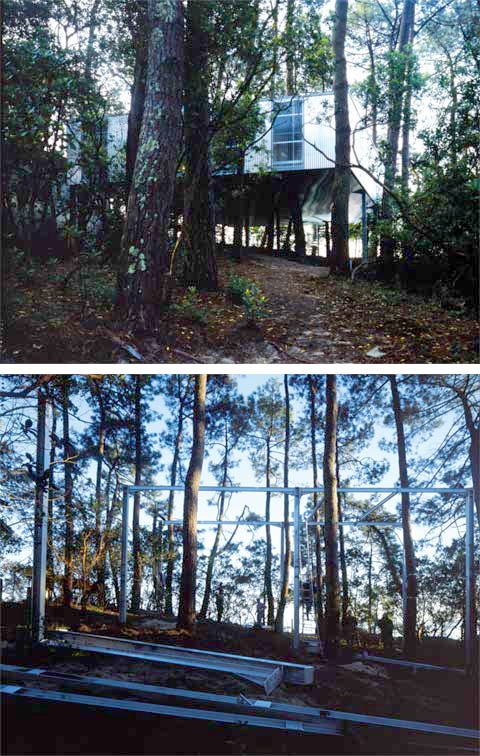 The main facade is composed by full-height sliding windows, opening the living room to a 30 sq.m. terrace. The three remaining facades are made out of aluminum panels while the inside preserves the metal atmosphere of the prefab elements.
Four bedrooms and two bathrooms along with a tiny kitchen kit complete the program. Yet, the most impressive details are the holes made in the reinforced concrete roof and floor levels, in order to maintain 5 of the 46 pine trees now situated within the four walls of the building area. These trees cross the house through special holders adapted to their size, preserving them in a good state of health. Can you imagine? Pine trees as inhabitants of a prefab home…quite astonishing!