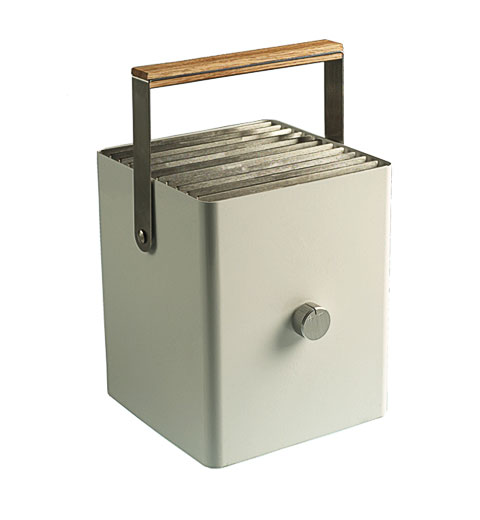 Ahhh…it seems that whenever I'm searching for a gadget for my personal use, it somehow fits to share it here with you, too. Spring is here and life in the middle of Germany where I live is all about gorgeously green trees and short weekend excursions by the rivers and lakes. Did I hear you say that picnics and grilling fit as greatly to the picture? You are absolutely right.
I had been looking for a small grilling device that is portable, stylish and as easy to carry as for example on the handlebars of the bicycle. My list seemed rather demanding.
There is nothing like patience and a little luck in the research process though. And voila! City boy popped right in front of my eyes, all pretty designed from Klaus Alto, produced by Selki- Asema, coming straight from the origins of minimal, practical and pretty design: Helsinki Finland. Hello darling. Come, let's go on a ride by the lakes together!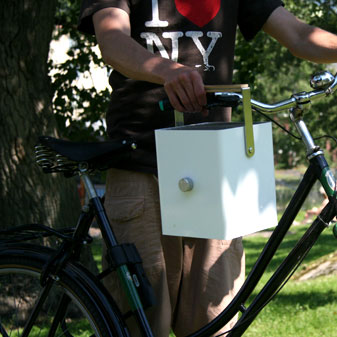 I love your square shape with carefully rounded edges, your all time classic white color and the fact that your body is made from powder coated steel and stainless steel.
Measuring 18 x 18 cm with a height of 22 cm, it has just the right size to grill enough food for two, while easily being carried. Talking about being carried, one has to adore this absolutely beautiful handle made from a combination of stainless steel and oak wood.
I don't need to worry about coal as City boy operates on small gas cartridges. Design heaven, no? Now, after having ordered this beauty, all I have to so is wait a little until I upgrade to my new equally stylish bicycle. The only thing, despite its name, I'll be the one carrying it and not my boy ; )