This holiday home in Breukelen, the Netherlands, has nothing superfluous in it. The modern shell with two glass walls as gable facades, located on the deck at the edge of the water, will satisfy the demands of the most sophisticated and tried retreat-seekers.
226 sq. ft. of protected, yet open space of the cabin offers high comfort and the feeling of being alone with nature. Thus, the eternal choice "fashionable living conditions versus closeness to nature" is really not relevant here: you've got both!
The two mentioned above transparent gable elevations (with their axis perpendicular to the shore line) create an impression of a structure serving as a gateway to observe nature. In this way, architecture plays a role of connecting us to our natural surroundings, serving as comfortable observing stations.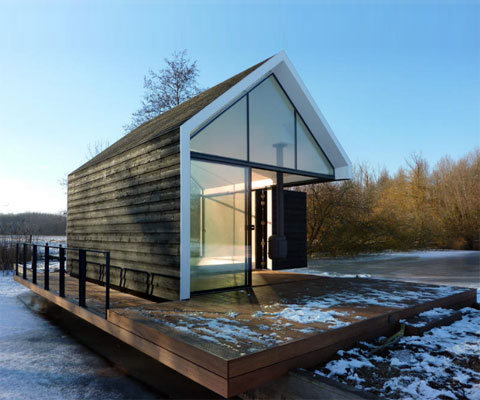 The effect of blended exterior/interior spaces is strengthened by the free hanging fireplace in the corner of the cabin. When the weather allows, the corner walls can be pulled aside so, that the fireplace, suspended from the roof, seems to be an outdoor element and the room's floor becomes one with the deck. The limits of inner and outer spaces are almost non-existent, as the house seems to be a lake pavilion with no walls.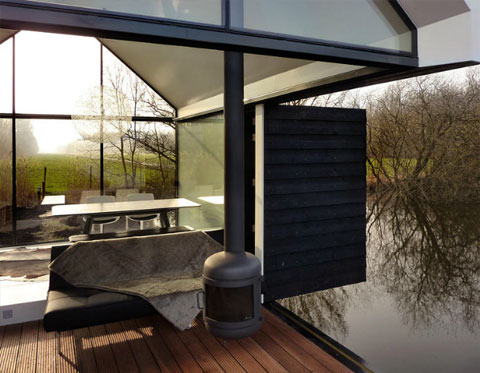 Yet, it remains a fully functional recreational house with all necessary living space programs: all the facilities (toilets, shower, storage, kitchen, etc.) are smartly built in to provide the needed level of comfort and modern technological design.