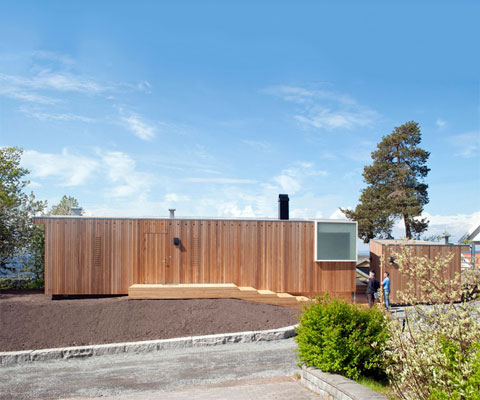 Soft, smooth and tender…These are qualities that architecture should always embrace to achieve the most suitable atmosphere for its dwellers. And wood seems to always assume a privileged role in this equation.
In Fuglevik, Norway, a modern summer retreat reminds us how the ingenious use of organic materials always lead to the conquest of such noble qualities… A small wooden volume with 130 sq. m. of living space establishes a symbiotic connection with its environment: from the concept to its conception! Just follow these simple coordinates: ocean, trees and wooden planks.
A solid entry facade creates a mono-view, emphasizing attention towards the landscape while creating a direct connection with the ocean. All the interior spaces benefit from an exquisite relation with the outside panorama from the open social areas (living, dining and kitchen zones) to the private areas (two bedrooms with toilet facilities).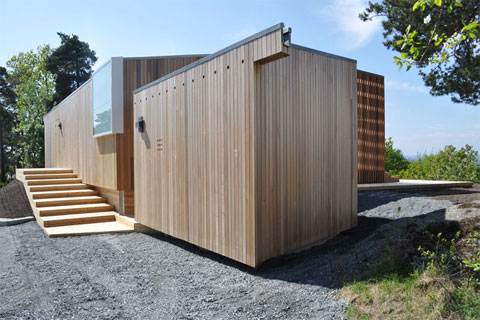 In fact, to extend this symbiotic relation to the exterior a generous veranda was carefully developed along with the social areas… Summer Retreat assumes an organic character with its interior and exterior surfaces clad with wooden planks. Small circular openings and windows allow healthy air circulation through the interior while the back of the house opens onto a continuous glass facade.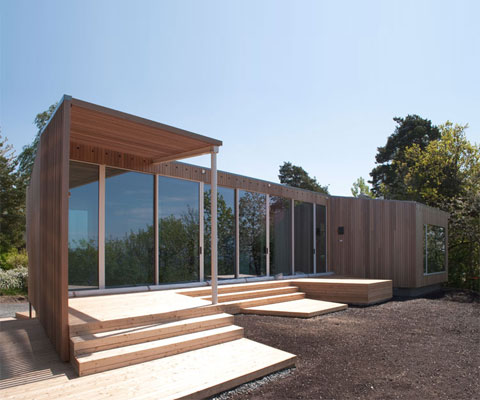 The homogeneous wooden interior unfolds with a partially screened veranda which frames an outdoor seating area with magnificent views towards the ocean…A small coastal home is all we need to capture the most spectacular environment! Just a tiny steel stove reminds us the basic need of heating to guarantee the necessary comfort in colder days…