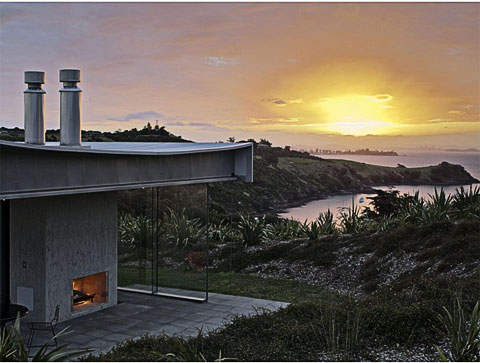 In Waiheke island, New Zealand, a modern re-interpretation of the ancient tent provides the most amazing place for contemplating nature…Like our ancestors nomad shelters, this beautiful coastal home, by the name of Island Retreat, captures the essence of a small camp.
This private residence distributes its 375 sq. m. in four independent volumes, all gathered around a central courtyard. Free-standing structures are carefully positioned in the irregular topography of the island, containing the following program: studio, social areas, private areas and a swimming pool. Although its volume fragmentation, Island Retreat stands as a whole: all the small buildings share the same construction and proportional principles.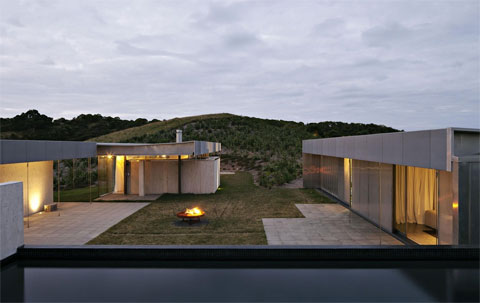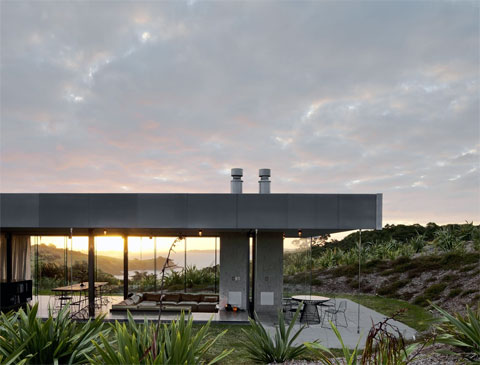 A steel frame supports a catenary roof embedded in concrete tensioned to the ground with exposed steel cables, reminiscent of a tent assembly… A contemporary approach to an ancient technique still used in leisure camping… Large glass panels wrap around the buildings perimeter as semi-permeable walls offering the most astonishing scenario, while perforated aluminum screens provide shade.
Inside, stone-clad volumes subdivide the spaces within each component as additional layers of isolation and protection. The raw exterior material palette is counterbalanced by the warmth of the leather sofa (embedded into the polished floor plane), the fabric long curtains and natural wooden furniture.
Comfort heating is provided through thermal mass while solar panels generate electric energy during the day. Also rainwater storage and an on-site sanitary management mechanism contribute to a greatly reduced impact on nature's resources. An elevated pool invites us to enjoy the peaceful hours that quietly fly by on the island.