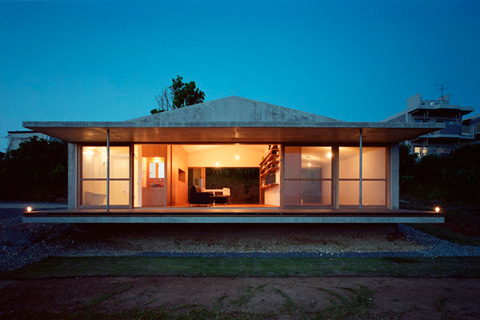 Architecture is always related to the deep notion of shelter…Against all kinds of adversities, men created a process to erect an artificial body that could protect themselves from all kinds of menace! I'm beginning this post with a special introduction because the following project deals with a very fresh and innovative attitude against the most ancient of the threats: destructive typhoons!
Villa 921 is a concrete bungalow built on a remote Japanese island which its main purpose is related to the primary need of shelter and protection. A peculiar context always leads to unusual results!
Located in Iriomote (an island that can only be accessed by boat and it's mostly covered by rainforests and swamps), this small bungalow has only 70 sq. m. of building area. The distribution of the program is quite simple and pragmatic: rooms are divided into three distinctive areas and include a kitchen and bathroom on one side, a bedroom on the opposite side, a living and a dining room in the center.
A suspended terrace expands the interior sense of space in all areas while projecting canopies shade the rooms and terrace from harsh sunlight. White painted surfaces offer an expanded sense of light contrasting with the grey colored concrete of the exterior walls.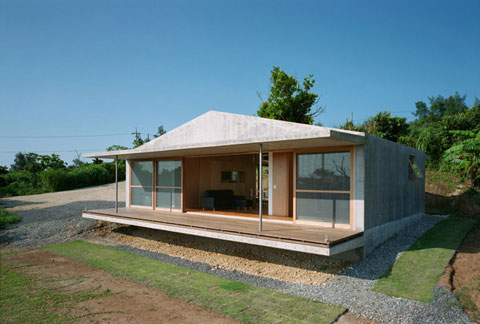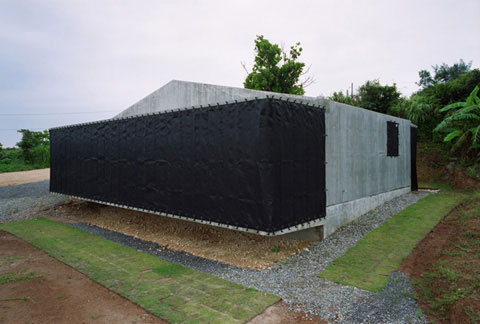 But what really turn this tiny house into a truly lifeguard against typhoons? Indeed, Villa 921 is mainly built in a massive concrete structure, thus, during typhoons the house and terrace can be sheltered behind protective screens, which fasten onto the protruding eaves. This clever system also guarantees the most amazing views of the landscape in peaceful days of good weather…