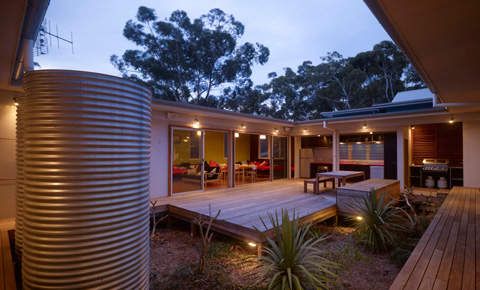 Did you ever hear about Seal Rocks in New South Wales, Australia? It is a small coastal settlement famous for its many premier surfing beaches… A little paradise on Earth, perfect for leisure and relaxation! The project that I'm about to present is a fine example of how to synchronize architecture and nature in a very efficient way.
Seal Rocks House 4 is a holiday home with a building area of 219 sq.m. developed on a single floor. The conventional domestic program was simplified and optimized to obtain the perfect adjustment between site and construction. There's just one bathroom, a big outdoor shower and one living space… but plenty of room on the hammock deck or on the day bed. Outdoor spaces are clearly transformed into daily living spaces…
The project is focused on a central patio to which all interior rooms are wide open. This conceptual solution is all about outdoor living and inhabitants only retreat inside when the climate conditions become a little less friendly… It also creates a strong sense of seclusion and enclosure to the outdoor living area.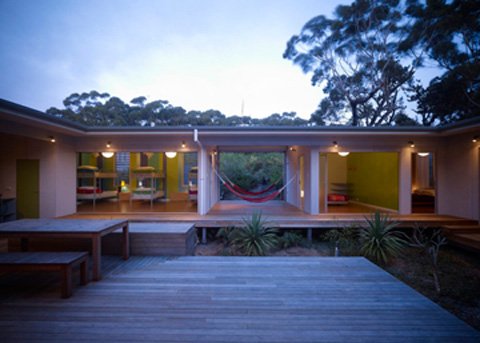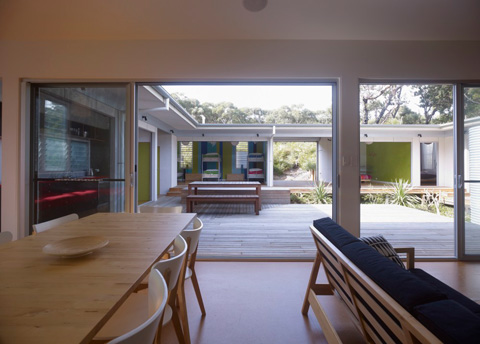 The surrounding internal roof edge allows a covered circulation beneath the eaves while framing a nocturnal sky view illuminated by the lighthouse beam passing overhead. Construction process and details respect a small budget and local tradition, the walls are lined with 9mm CFC cladding and aluminum channels, interior floors are polished particleboard while exterior floors are made of milled blackbutt decking. Roofs follow the traditional custom orb roofing.
However, it is the entry foyer – reserved for surfboards storage, hanging towels and wetsuits – along with the central patio that constantly reminds inhabitants of the real purpose of this house: leisure…