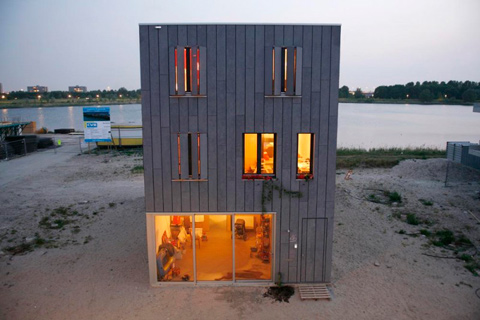 Wouldn't it be wonderful to enjoy a house by the lake in an urban context? In Ljurg, The Netherlands there's a three-story building that accomplishes such a desire! Positioned on a sandy site facing the IJ Lake, this house has a total floor area of 240sq.m. with a privileged access from the street.
The organization of the domestic program enhances the relation between these two different scenarios: the street side and the lake side. On the ground floor, the entrance hall and the garage space welcomes visitors to enter into a new dimension: a large open plan, with kitchen and dining room, extends its views and steps to a terrace that almost touches the water…A tempting invitation indeed…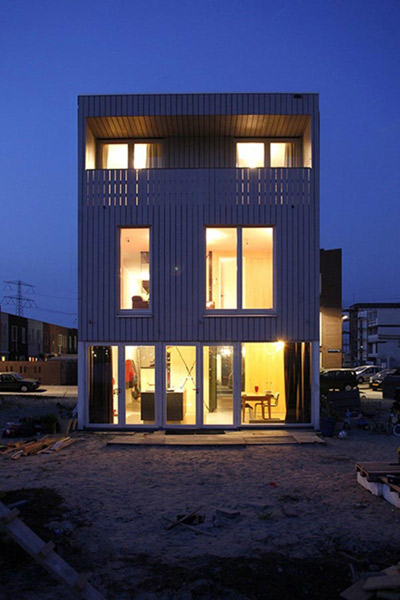 But wait, there's even more to be discovered! A central staircase gives access to the upper floors: the first floor is composed by the living room, a studio area and a guest room with a bathroom. The last level assembles the private areas of the residents divided in three bedrooms for children and a master bedroom for the parents with a large veranda framing (once again!) the amazing IJ Lake.
The external appearance of Beach House respects a certain sense of enclosure mainly at the street side, where small window openings and high parapets were carefully designed. In fact, the wall material at the front facade is a dark-colored fiber cement board. The bedrooms windows are placed behind the fiber-cement shutters guaranteeing a great light resistance (and also a good cold resistance) for the entire building. At night, the interior illumination almost gives the impression of a small lighthouse that quietly rests by the lake shore…