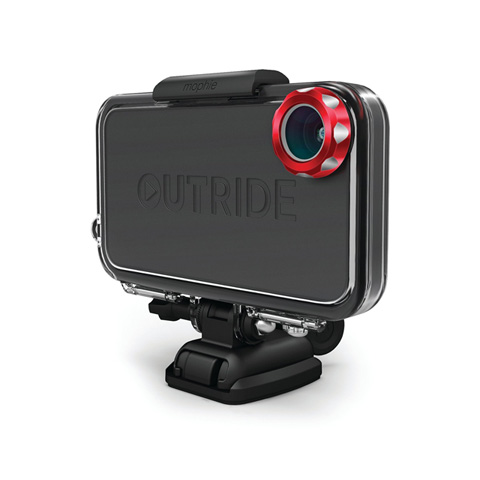 It's difficult to tell your friends what it was like to fly down a mountain, let alone show them. On your next descent, attach your iPhone to your helmet with the Outride by Mophie to capture your expedition in wide-angle glory. There's nothing better than first-person perspective of adventures, and the Outride enables you to pay attention to your movement instead of supporting your iPhone to make sure it's capturing the video you need.
The waterproof Outride case fits over your iPhone without adding too much extra bulk. The system can be attached to your handlebars, your helmet, or support it with a wrist leash while you surf. Not that you'd want to, but the Outride was tested successfully beneath five meters of water.
To share your videos quickly, there is a companion Outride app that allows you to edit, upload, and share in the action sports footage fun with the hundreds or thousands of other lucky users.
The real advantage to this iPhone camera is the wide-angle lens that enhances your viewing angle to 170-degrees.
In the habit of making our smartphones sophisticated rivals to bulky camera technology, the Outride succeeds at bringing high-quality sport video to a smaller form.
Buy This Item