I always thought that being organized will make my photographic life much easier. Deciding on which gear to take with me takes long enough without me delaying on scattered filter boxes. So I was looking for THE perfect bag that will hold my current – and growing – filter collection in one place. Basically, I was looking for something I could just grab and go and not worry if I missed something as everything I needed was already in the bag.
Whether it's a LEE, Cokin or NISI 100mm filter system, the Filter Hive from MindShift Gear will get the job done. You can put it in your camera bag, strap it on your belt, or hang it from your tripod – ideal for quick, hands-free shooting.
The Filter Hive is actually a combination of a removable insert inside a padded case. The accordion-style insert is color-coded, holding up to six 4×6" (100×150 mm) ND grads plus six side-by-side round filters (up to 82mm diameter). The insert also has a dust flap which comes in handy if it's too windy outside and you're at the beach trying to get that long exposure shot.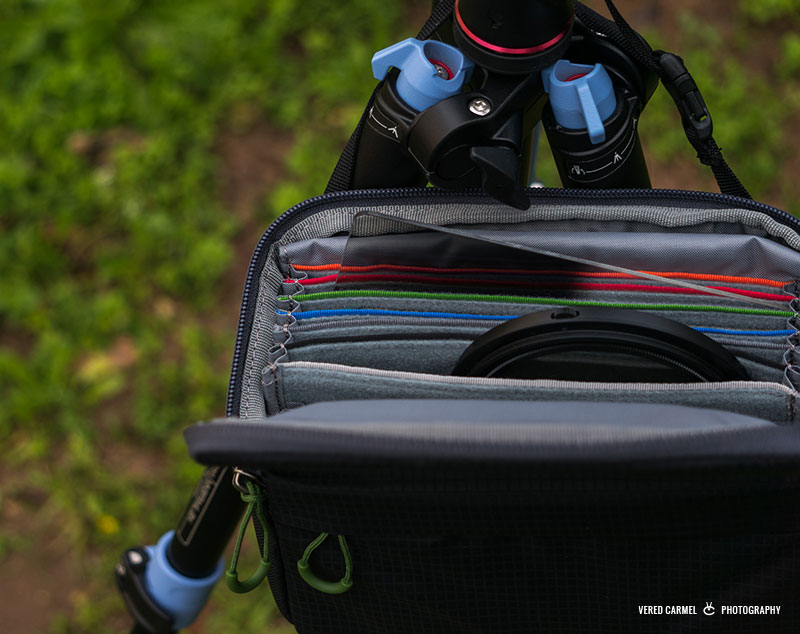 The case is compact and lightweight. It has an interior pocket for screws and small bits plus an exterior zippered pocket where I keep spare batteries, remote and a lens cloth. Currently my Filter Hive holds three 4×6" ND grads, 6 and 10 stops ND filters, 86mm circular polarizer, V5 holder and a few adapter rings (yep! I'm a NISI shooter and can't be happier). Everything I need is secured, scratch-free and in one place. Kudos for the guys at MindShift Gear for making filter handling a snap.
Dimensions: 8.1" W x 5.3" H x 3.9" D (20.5 x 13.5 x 10 cm); Weight: 0.6 lbs (0.3 kg)
Available at MindShift Gear or Amazon
Photography: Vered Carmel