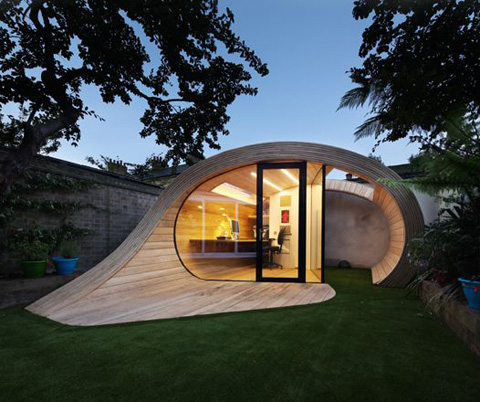 The concept behind a tiny garden pavilion in London, UK was simplified by the following equation: shed + office = Shoffice. An organic volume is now placed in the rear of a 1950's terraced house as an artificial extension of the existing garden. The program was very simple and small – an office space for the owner of the house that could promote a closer connection with his domesticated piece of nature.
A special demand was crucial to the mysterious shape of this prefab home office: the building should be conceived as a sculptural object that somehow flowed into the garden area. This goal was brilliantly conquered by following a sequence of steps: A glazed space nestles inside an extruded timber elliptical shell, which bends over itself like a wood shaving.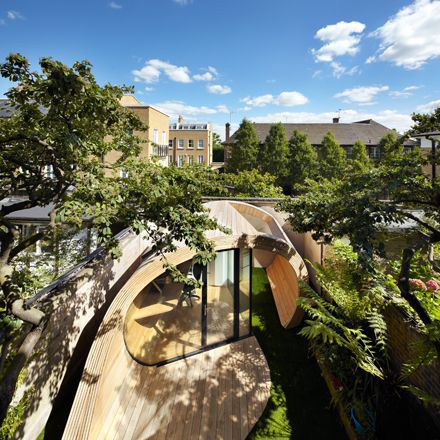 A small terrace invades the grass surface in a melt-shaped form while the opposite end work as the covered entrance for the interior area. The interior surfaces are oak lined and equipped with storage and a cantilevered desk. Two skylights bring light into the work space: one glazed above the writing desk with another open to the sky outside the office room.
All elements are so deeply bond with organic values that Shoffice almost seems like an authentic Mother Nature's Son. Transparency also contributes to a discrete presence of artificial materials in this amazing piece of prefabricated architecture. The quest for a shed and an office turned out to be the perfect excuse to achieve beauty in a back garden…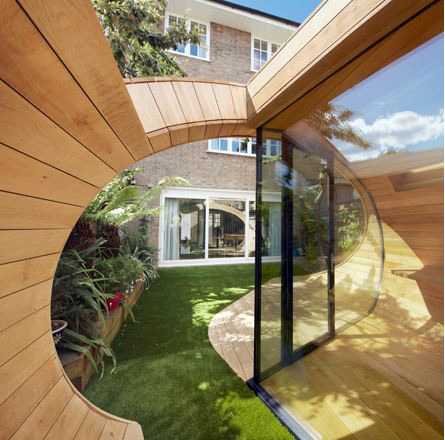 Architects: Platform 5 Architects
Photography: Alan Williams