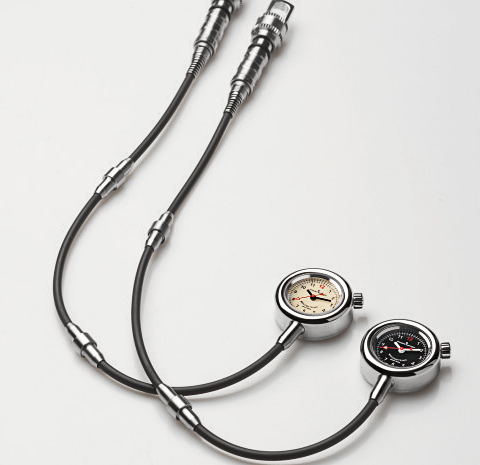 I have never worn a pocket watch, but if I did, the Manometrino, forthcoming from Italian watchmaker Giuliano Mazzuoli, would be my selection. Resembling a stethoscope or a scuba diver's regulator, the Manometrino, close to "little gauge" in Italian, looks like a gentleman's piece of jewelry.
Blending purely functional and purely visual materials, the Manometrino is a beautiful combination that seems to draw from the design of antique medical supplies. While that might seem an awkward history, Mazzuoli designs his watches with references to old blood pressure gauges. And the connection he makes to this past makes the Manometrino a better timepiece for the modern world, keeping the wearer aware of the lineage of industrial design.
The timepiece is attached to the pocket clip with rubber tube, given the whole piece a durable look. The clock is surrounded in a silver finish. Altogether the Manometrino is a subtle and functional watch, capable of drawing a glance from someone curious about its newness but its history, too.