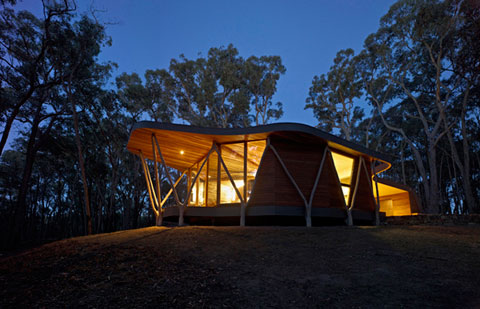 The following project is all about ecological thinking…In the heart of Victoria's Central Highlands a small modern cabin is perfectly involved within a wild forest, kindly baptized as the Trunk House! In fact, the formal conception of this weekend retreat gently pursuits the shape of a bird's nest… But can it really be similar to such a delicate form of shelter? Definitely, yes! Forked tree branches were used to achieve this outstanding result.
The zigzagging external columns bond with a system of wooden trusses to form the structure supporting the building's overhanging roof. This single roof also extends across a driveway at the rear of the house, where the main entrance is located.
Behind the covered front door a small program is waiting to be revealed: a narrow corridor gives access to two bedrooms and a bathroom. At the end of it, a generous open space conceals living and dining areas with the kitchen. A tiny terrace extends the interior social areas into the wild forest landscape, which can be fully appreciated from the inside. Full height windows allow the most transparent visual relation between inhabitants and nature…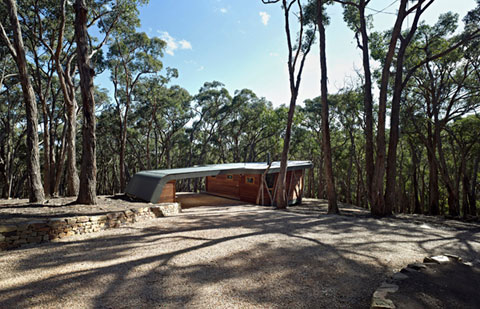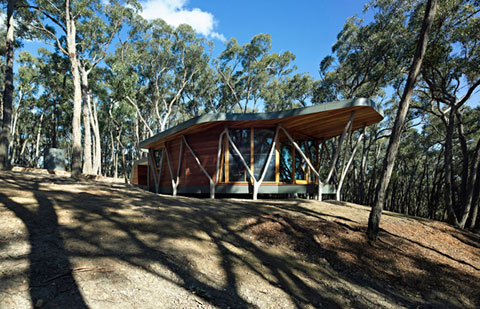 However the detail that confirms the ecologic concept behind Trunk House is totally developed in its constructive process. A small number of trees were felled to make room for the cabin, but were then milled and cured onsite to provide panels for lining the interior. The atmosphere that exhales from the interior finishings still has the warmth and beauty of the original trees. Isn't this a wonderfully fresh way of making architecture with the most natural of materials?