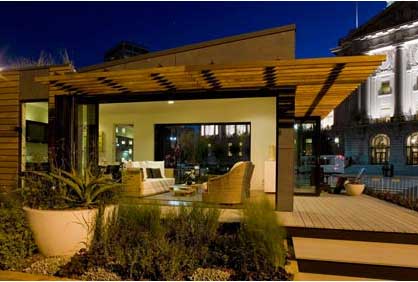 The mkLotus prefab green home is the latest design by Michelle Kaufmann Designs. This beautiful, healthy prefab home is a peaceful oasis that collaborates with the land.
This prefabricated home offers the latest high-performance systems and sustainable materials and methods, including a greywater recycling system, green roof, solar panels, and even a spot to charge your electric vehicle.
Each one of Michelle Kaufmann's green homes is designed to harmonize with the environment while maximizing sustainable natural resources, such as: sustainable floor plans, energy efficient lighting design, tankless water heaters, energy efficient building systems and high quality, eco-friendly materials and finishes.
Michelle Kaufmann, the founder and chairman of Michelle Kaufmann Designs "has always had a deep understanding of the relationship between humankind and the environment. This awareness is engrained in all that she does. She believes that how we develop our landscape is such an integral part of our culture and that what we build, and how we build, should improve the environment rather than harm it."