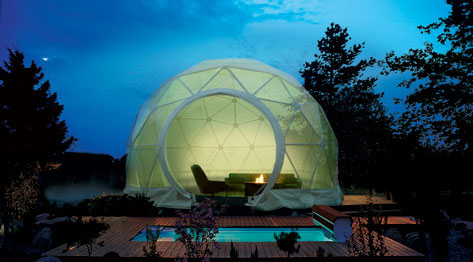 The Zendome home-edition has the organic form of the hemisphere. It can be used in multiple ways in your home and garden area. Be it as a roof for the swimming pool, a temporary guest house, a garden house or simply a beautiful playhouse for the kids, this dome home has it all.
The frame system of the Zendome is constructed of powder coated galvanized steel with a strength of 2mm. 161 poles and junction discs, especially designed for maximum mobility, are assembled following the easy to use color coding of the Advanced Frame System. The membrane is made of all-weather welded Ferrari material: Perfect for any given use.
Photography courtesy of Zendome.