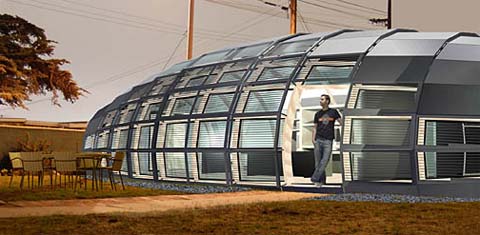 The Canuhome is a 20 by 50 ft. exhibit of an 850 sq. ft. prefab residence, including a kitchen and dining room, living room, bathroom and bedroom.
This traveling exhibit brings together a diverse group of partners in order to stimulate more sustainable, universal and affordable prefab housing solutions for Canadians.

"It's high time we all start decreasing our utility bills and improving indoor air quality while helping the environment on our quest for a better life…"

The Canuhome is designed for young couples, seniors, singles and small families; it can fit into rear gardens or on rooftops of buildings for city dwellers, and in the countryside for green fields aficionados.