The 7.83 HZ prefab house, by London-based architecture firm Youmeheshe, has a fantastic modular concept. Made from precut, biodynamically grown wooden panels, which are doweled together onsite rather than glued, this prefab house is designed to be delivered on just two trucks – ensuring an overall zero carbon impact.
This innovative and potentially revolutionary architecture design would make a carbon-neutral, eco-friendly prefab house available to the mass market. At an estimated budget of $170,000, the 7.83 HZ houses are to be arranged in a terrace-style on small streets or clustered in small groups, thus creating communities and allowing for economical and ecological power generation.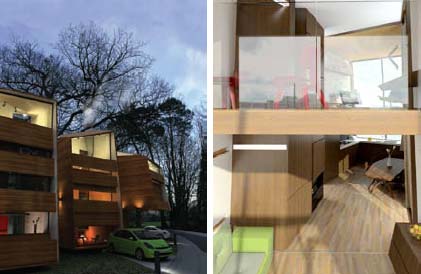 This prefab home is also highly adaptable. It is designed around a central core, through which service areas run and heat rises. The unique layout of this two-story/three-story, organic house can be adapted to meet the changing needs of the occupants; ceilings or walls can easily be added or taken away for a simple makeover. For example, the interior can be altered as families grow or shrink, with floors added to create new bedrooms and removed to create double-height living rooms or even a roof garden.