We really like the work they're doing down at Bluelounge Design. In previous posts we already wrote about Dominic Symons and Melissa Sunjaya simple solutions for our daily electronic life, such as the Cool Feet for your laptop and the cord-tidy Cableyoyo. This time it's all about this stylish Sanctuary Device Organizer.
While our electronic devices are piling-up, the Sanctuary gives us a place to put the multitude of personal items we all carry around so they are easily located again when later needed and, always fully charged. Place it on your bedside table, kitchen counter or office desk – it doesn't matter, as long as you have the Sanctuary, you'll have your portables within reach.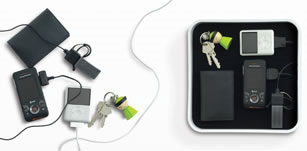 With its simple and compact design, the Sanctuary conceals a universal charger compatible with over 1500 electronic devices from most major brands, such as Apple, Nokia, Siemens, Motorola, Creative and more. You can also use its USB port to charge hundreds more electronic devices; from now on, users can charge their cell phone, PDA, Blackberry, iPod, MP3 player, and bluetooth headset simultaneously in one location.
So, how does it work?


First, lift the inner tray and plug the adapter into The Sanctuary power socket.


Second, select your device connector(s) and replace inner tray with selected connector(s) on top of the inner tray.

Now all you need to do is plug-in your electronic devices and charge. You can throw-in your keys, wallet or watch if you want to, so you wont need to search for them later on.

You can also plug-in your own USB charge cord to the built-in USB socket and wind surplus cord length around the integrated cable management pins (that's the whole idea, keeping it tidy). Then you can plug-in and charge your Bluetooth headsets, portable game consoles, and hundreds more such USB devices.
After I bought my new Sanctuary it became such an integral part of my daily life, I simply cannot imagine my life without it.
Buy This Item