inhabit is the new prefab, modular home by Seattle-based real estate company, Unico Properties. With a purpose of making city living more accessible, inhabit offers prefab, modular apartments for future city dwellers, who appreciate stylish, open living spaces and environmentally responsible construction.
From studios to one and two bedroom homes, these modern, prefabs apartments feature open living spaces with a neutral color palette design and double-paned, floor to ceiling windows, which increase the perception of space and expand the living area to the outdoors.
There's also eco-friendly rubber flooring and recycled decking, programmable ventilation systems for energy efficient heating and cooling, water saving plumbing fixtures and Energy-star appliances and flat roof designs allowing for green roofs and storm water recycling.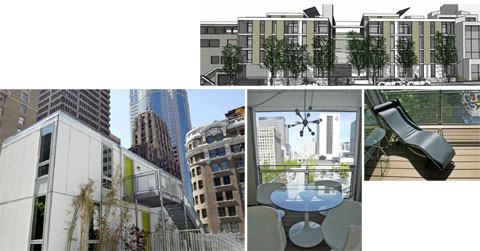 "…rising costs have made it harder for people who work in the city to live in the city…We believe that one of the most promising solutions to these problems is modular housing. Modular construction embraces new materials and manufacturing techniques to produce iconic, modern homes. With modular construction, apartments can be built more efficiently indoors, in controlled environments."