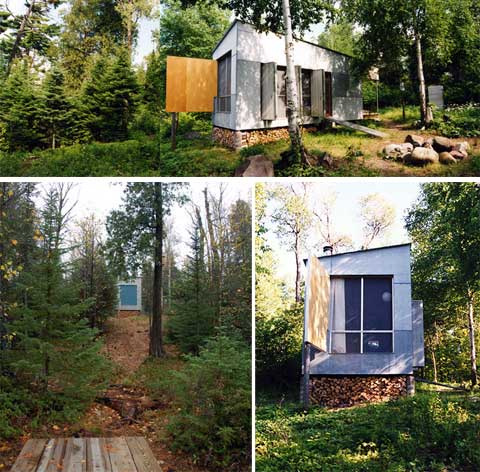 After writing about the creative initiative of the Stankey brothers' shipping container home, I thought that the small Clara Cabin will also fit nicely with the 'do-it-yourself cabins in the woods' kind of thing.
Located deep in the northern Minnesota woods on a remote lake property, this small cabin getaway, built by lifelong campers and architects Bryan Meyer and his wife Anne Ryan, offers protection from harsh weather and mosquitoes while keeping its lucky residents in-tuned with the amazing surrounding wilderness.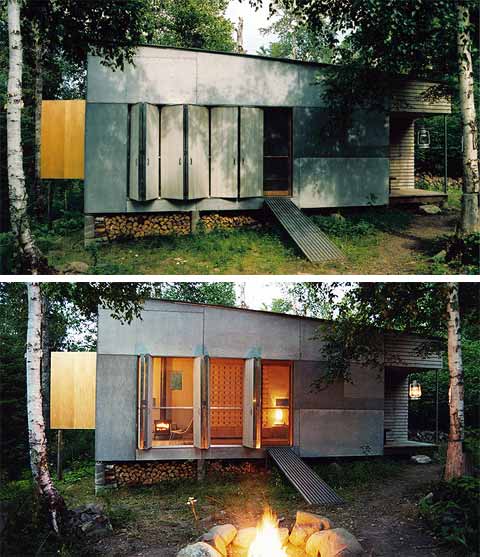 "a primitive room in the woods" – is how they describe their small and cozy home away from home – "The idea found form in the methodology of manipulation of the cabin doors to adapt to different views, sounds, uses and weather conditions. Large doors and a birch plywood interior transform the static box into a dynamic space, animated with inhabitation."
With its 220 sq. ft. combined with a zen minimalism feel, this compact cabin provides basic needs through a 12 volt lighting system powered by a solar charged marine battery as well as flexible storage devices such as a folding bed and pivoting storage devices.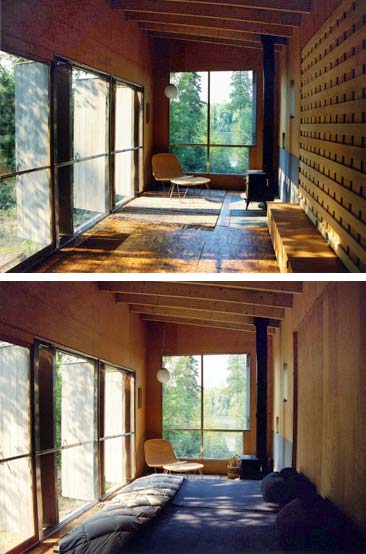 With beautiful forest and lake views to be enjoyed, the cabin offers an inside-outside living experience where two sides of the structure open-up and three bi-folding doors bring in the surrounding wilderness. When closed and vacant, the cabin quietly blends into the winter woods becoming one with the landscape.