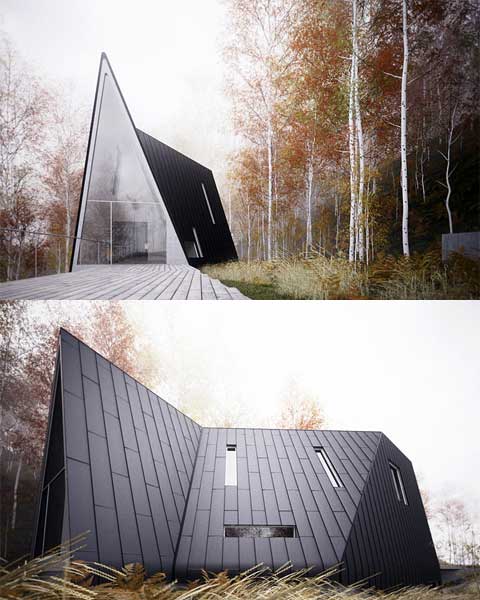 Protruding like a jagged black rock in a wooded area of slender Birch trees, the Allandale House is a beautiful family vacation home that combines a dark triangular sharp-edged structure with a modern, crisp white interior.
This unique structure links three asymmetrical A-frames; the narrow A-frame on the western side contains the library, wine cellar and garage; the wide A-frame in the center is dedicated to two floors of bedrooms and bathrooms; the medium A-frame on the eastern side consists of living, kitchen and dining areas.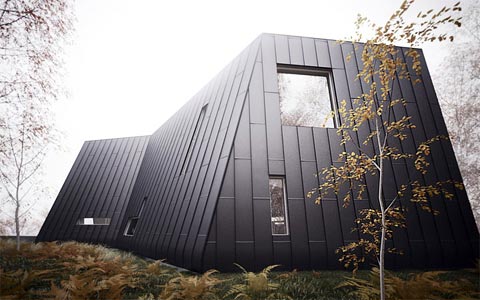 The interior design of the house is pure and minimalist. The architects succeeded in resolving the extreme angled walls by coming up with a wonderful solution for keeping the sheer effect of the ceiling without compromising on storage space.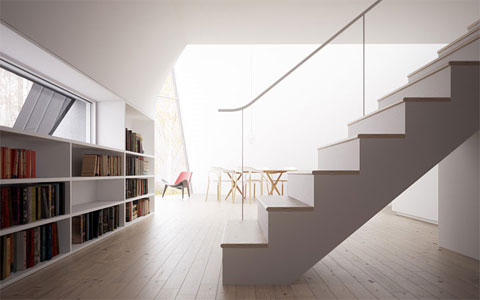 The interior surface of the ceiling/wall was allowed to deviate from the roof surface as it nears the floor, creating a thick space between the outer and inner wall – a space which was then carved into, creating plenty of space for storage, bookshelves and showcases.