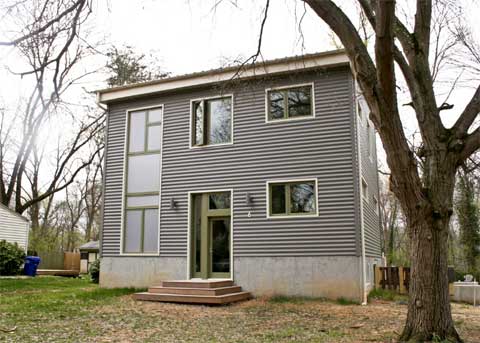 Built in Maryland in a suburb of Washington DC, this prefab home uses EcoSteel's unique steel building system. Certain building components, like corrugated steel siding and steel framing both inside and outside the house, have been left exposed, and made visually appealing by combining different materials, textures, and colors.
The plot size has a compact 30′ x 30′ footprint, but the living space has been maximized by smart planning. This prefabricated home features three bedrooms, two and a half bath layout, and a full finished basement – altogether providing approx. 2,500 sq. ft. of living space. Wow! talk about maximizing space…
The steel framing affords a wide open floor plan on the first floor level, so the living space feels expansive despite the compact plot size. This house is also extremely thermally efficient, thanks to R32 roof and R24 pre-insulated steel roof and wall panels.