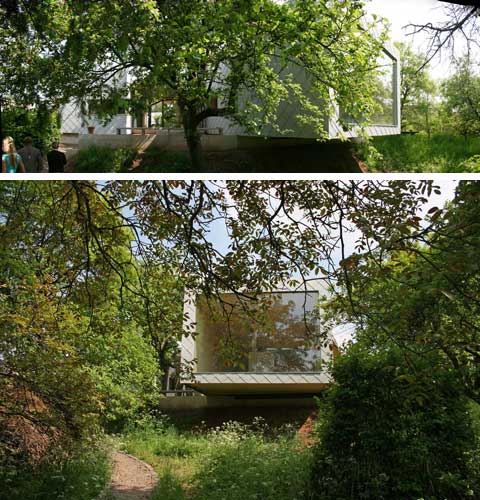 A couple who always wanted to live in a modern house, but didn't want to leave their beautiful garden, decided to build their new home on the same plot and keep their old farmhouse for their children.
Located in the German Eifel, custom designed by a+ architects and prefab built by Thoma, this prefabricated home is actually quite simple; the design is based on two volumes – a large 'living tube' and a garage – connected by a glass entrance overlooking a beautiful old apple tree.
By looking to preserve the old apple tree, the house position has been changed to fit a diagonal angle – a last minute change, which later provided a longer view into the garden and a more dynamic floor plan.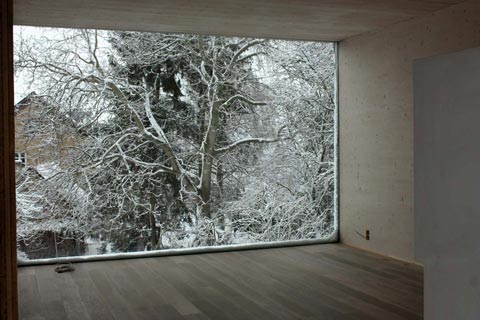 Inside, in order to keep the piping as compact as possible, the bathroom and kitchen are placed next to each other, whereas the bathroom is contained in a cube, separated from the living space, with windows to the east to catch the morning sun.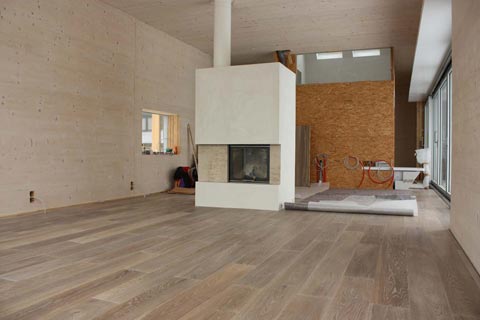 Except for the concrete foundations, the entire house is constructed from massive wood, 36cm thick for the living space and 14cm for the garage. The walls, floor and roof are all made of these prefabricated wood elements. The wood applied for the construction weighs over 20 metric tons and the structural work was erected within 2 days.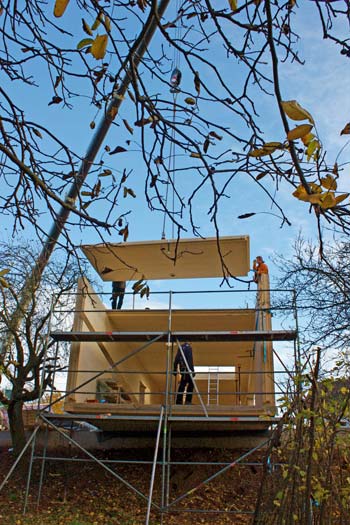 The whole floor is elevated by 14cm to house all the piping, since it wasn't possible to integrate all of the cables and piping in the walls; windows are double glazed, allowing solar energy to enter during wintertime; Ethernit cladding for the exterior is maintenance free; an air-to-air pump provides hot water and heats the floor.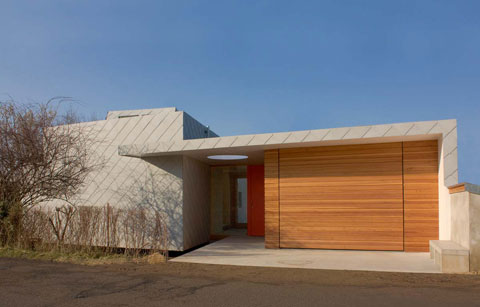 The entire design of this house – in terms of positioning, overhangs, closed facades vs large windows etc – provides shade and shelter, and of course, passive heating and cooling during winter and summer time. Besides being prefab, the house is also energy efficient and complies with the German passive house standards.
Marco Groenewege from a+ architects explains:
"After having built a plus-energyhouse in 2005 our goal this time was to use our experience and minimize the need for "machines" by improving the passive performance of a house using solar energy, materials with a positive effect on the interior climate and enabling natural ventilation."