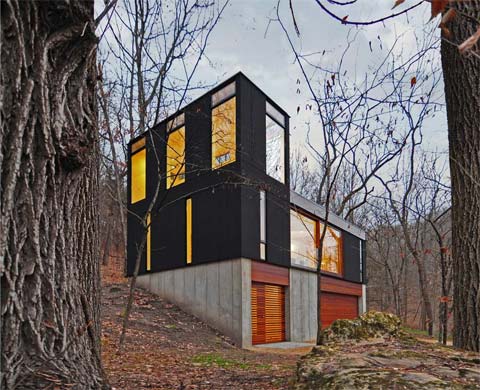 Oh, how I wish for a cabin in the woods, a small getaway to call my own…
Nestled into a densely wooded hillside in a remote Wisconsin forest the Stacked Cabin, with its contemporary geometric character, is far from the traditional log design we usually see when it comes to forest retreats, however it is a fine example of a small modern cabin-in-the-woods with a twist.
Based on the traditional cabin compound, with its typical open-plan longhouse, outhouse, and freestanding tool shed, the structure of this small cabin has been reconfigured and stacked vertically; hence the modern twist!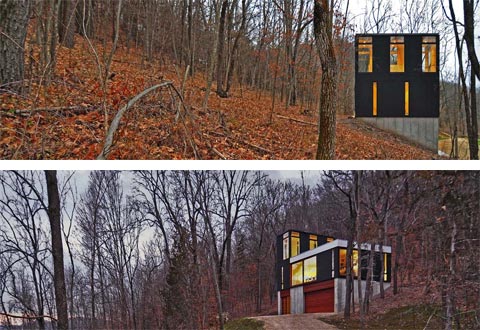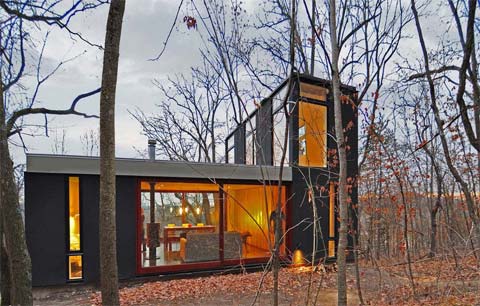 Carved into the hill the bottom level consists of a small workshop, equipment storage, and a washroom; the living quarters above include an open living space centered around a wood-burning stove, with a simple galley kitchen on one side and two small, open sleeping rooms on the other. Stacked on top of the living space is a small study, serving as an intimate, elevated observatory with treetop views.
The interior design of the open plan space is quite versatile, featuring delicate, floor-to-ceiling curtains on each side to screen the kitchen when not in use and provide privacy for the sleeping rooms, or simply open everything up to the main living space.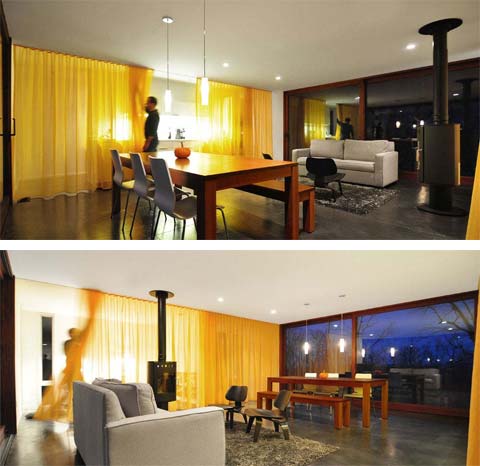 Various windows offer extensive forest views, whereas in summertime they become screened openings, enabling cross-ventilation while transforming the living hall into a covered outdoor room.
To blend the building's exterior with the surrounding forest and rock formations it consists of exposed concrete, cedar, anodized metal, and cementitious plaster; inside, white walls, ceilings, and built-in cabinets, as well as polished concrete floors complete the look.