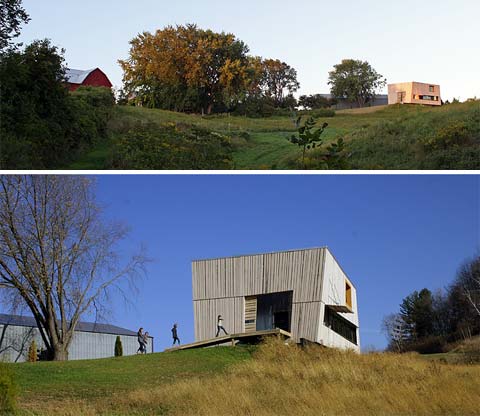 Alchemy Architects declare: Everyone loves barns. As they describe their Blair Barn House project in Wisconsin. Somehow it didn't persuade me. Why should I love barns…Is there something I'm missing here? I went to explore this object only because the look of the building in the landscape seemed interesting to me. I came to the conclusion that it is a nice cube house.
The most peculiar thing about the shape of the building is that the edges of the cube are twisted, so that the whole silhouette seems odd, uneven, friendly and interesting. This outline is better readable also due to the position of the house – it is located at the top of a small hill.
The facade decoration applied here is very popular nowadays. The exterior skin is made of simple wooden boards, which looks stylishly trendy (and – I admit –plays its role as a reminiscence of barn buildings). The house has an extension of its shell at one of the elevations, so that a cozy terrace under the shell of timber is formed here. The wooden boards in this part of the house are set with a distance between each other, and this lets the light come into the open, yet intimate, visually protected space.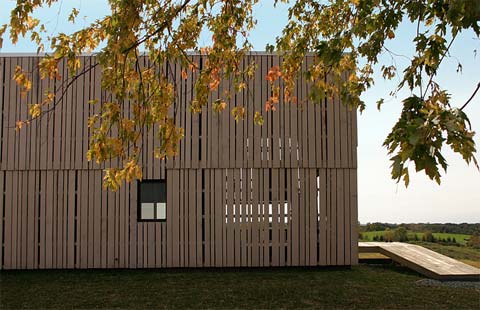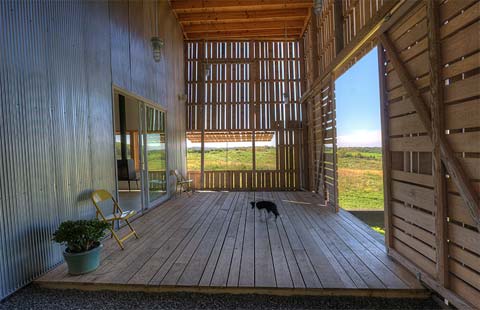 When I looked into the interiors of the house, I realized that more things reminded me it is supposed to be something like a barn. A vast 2-storied space, with a loft, the application of different materials… It's not too cozy. And that's where I thought – a barn is a barn, I felt the spirit of a barn here. The building is 2,600 sq. ft. big, there are 3 bedrooms there and the project is packed with various eco features, like rain water harvesting.
I didn't feel that interior design is a strong side of the house, unlike its outer appearance and silhouette, although I find the idea of putting the living space into a much bigger shell (so that there is lots of additional inner space around) great. What do you think?