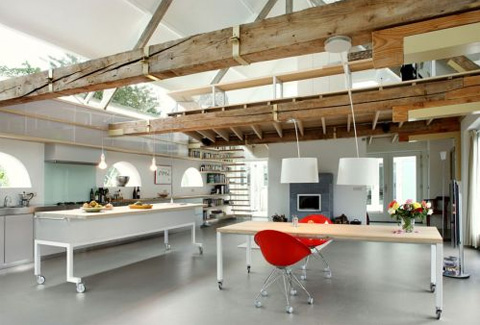 The tricks used to enhance the spaciousness of this beautiful brick (formerly-a-barn) home are quite frankly genius! The previous home owners had expanded the home to create living, kitchen, and lounge areas. Yet the new inhabitants found that the original barn, with simply creative alterations, would be better suited for those uses.
The design by Maxwan celebrates the barn's structure and spacious volumes. First they set the space aglow with light by slicing away a narrow section of the roof along the full length of the brick barn. On the inside, stationary elements are few – the warm grey-faced fireplace, a sleek kitchen clean up area, and the two level library wall.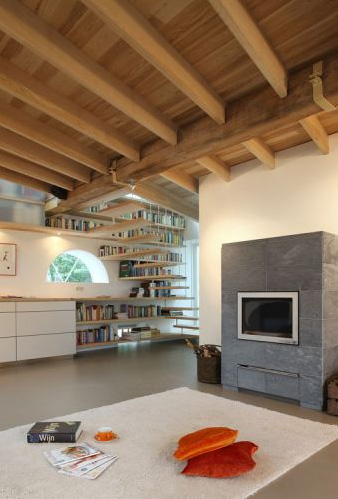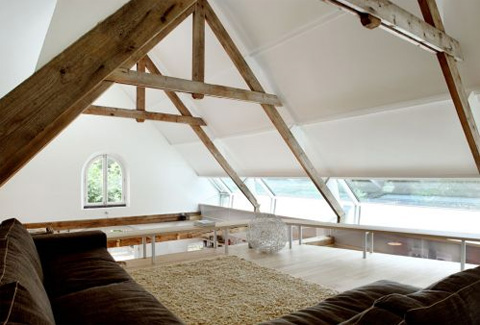 I'm a great fan of flexibility and it's achieved so beautifully here. The wood topped dining table is light and airy on white steel graceful legs. I imagine wheeling it outside on a sunny day. You can do the same with a taller, long, lean cabinet/bar/prep area on wheels.
A new loft rests over the loungey fireplace area. Access the loft via thick wood slabs suspended from thin steel rods. And browse for a good read from the abundant book filled shelves that line the sunlit stair. The loft is bright and airy and minimalist and a perfect spot for reading or sharing the birds' eye view through the new window.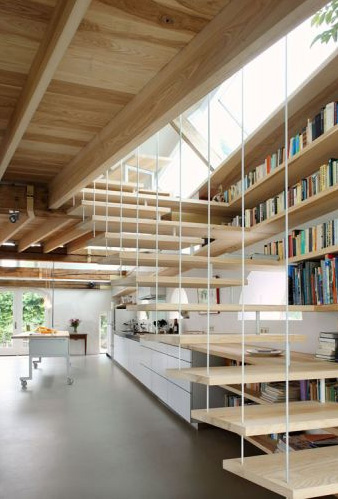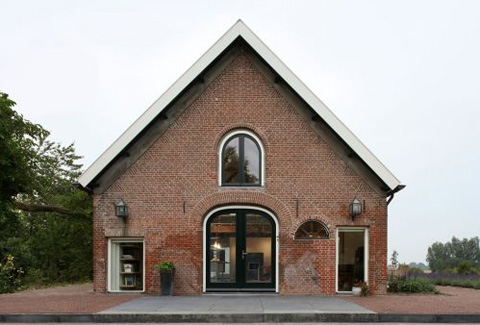 Partner in charge: Hiroki Matsuura, Rients Dijkstra
Team: Larraine Henning, Rene Sangers, Harm te Velde, Franziska Wien
Collaborators: ABT Delft (structural engineers), Binnenruimte – Rotterdam (woodwork & furniture), Van der Netten van Stigt – Zoelmond (contractor), Fred Vink – Geldermalsen (building supervisor)
Photography: Filip Dujardin