In Alberta, Canada there's a small building of 69sqm called Warburg House that sets a whole new standard of energy-efficiency. Bioi Architects developed a series of innovative construction techniques to achieve the perfect atmosphere for a compact pitched roof volume. Two basic solutions were adopted to guarantee the perfect blend with the climate and context of the site: first, the re-use of the barn typology as the main concept, and secondly, orienting the program for maximum southern exposure plus heavy insulation.
The west facade works as the main facade: a deck terrace precedes the front door that connects directly to the social open space of the house. Living, dining and kitchen share the same small double height space while a bathroom and a double bedroom complete the rest of the program.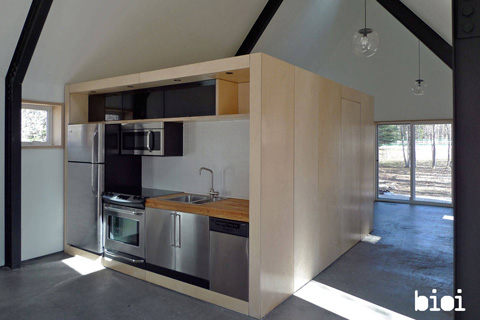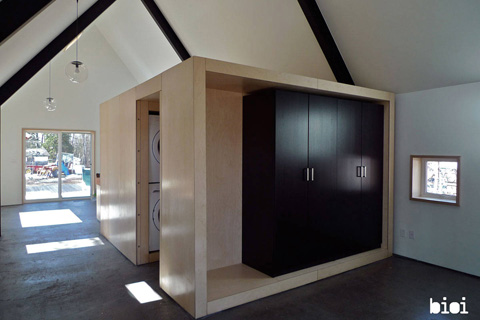 Cedar planks cover the eastern and western edges contrasting with the black corrugated metal sheets that clad the remaining facades and roof. Inside, black structural steel frames are left exposed. Walls and ceilings are painted white while the birch-clad volume of service areas seems to float over the polished concrete flooring. Radiant heating is actually embedded in the concrete flooring offering remarkable energy efficient living.
Architects: Bioi
Photography: Alison Andersen