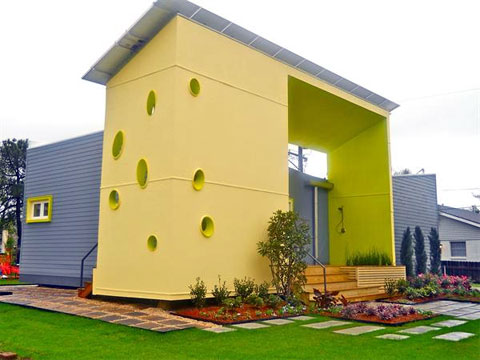 Designed by two Tulane University professors of architecture, the SunShower SSIP house has an interesting story behind it. The main idea of this experimental house is that it can be created easily, using the same off-the-shelf materials as a post-disaster recovery home. From this point of view, this modern prefab home, located in New Orleans, is extremely positive and joyful in its shape and color, which is just right for a physical and psychological recovery process.
The project is said to have two strong sides: One is its ability to withstand extreme weather conditions, including hurricane winds, and the other is its green features. Its structure contains the newest technologies of ecologically orientated water and energy use (solar panels, geothermal mechanism, wind turbine, etc.)
And also since the project has been developed in a university, it's no wonder it incorporates the latest technologies – as it usually goes with university projects – up to a certain extent it becomes an experimental site of theory implementation which can help to make our future more efficient.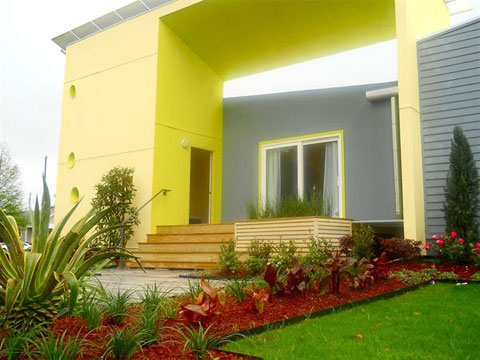 The house itself is visually divided into two main parts: the huge apple-green part with an exaggerated entry opening and with funny holes in its body, and the lower, yet far bigger by its area, grey-cladded part where all of the rooms are located (2 bedrooms, 2 bathrooms, approx. living space: 1,050 sq. ft. altogether).
Such a structural and colorful composition of the building's volumes is very vivid and catchy, indeed. One could find it too active but I think it is not at all out of place, especially as an experimental and ecological project like this one. It has to attract people's attention and provide them information about sustainable design, to which – no doubt – the future belongs.