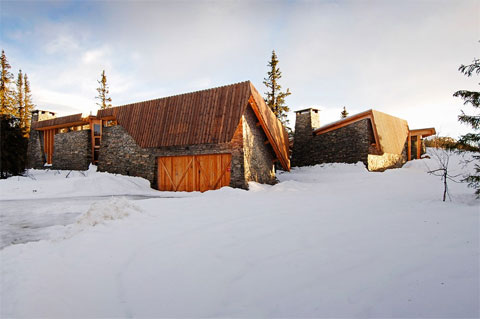 Let us travel to Norway this time! I've got an amazing piece of architecture to share and I am sure you'll love it. The design of this natural yet contemporary mountain lodge in Gudbrandsdalen fascinated me at once!
One-storied, horizontally stretched volumes, warm wooden elements, noble stone masonry, Norwegian pine trees… The project consists of two houses, which form an inner yard between them. Thus, the special closeness of the ensemble is created, resembling a small Nordic fortress.
Solid, seriously looking, stone cladded walls intersperse with windows in yellowish wooden frames, which are settled deep in the wall body, thus emphasizing the thickness of the walls. Wooden window frames are maintained by the low angle roof surfaces, which are also covered with wood. Massive chimneys add up to the romantic, yet cold simplistic of the entire ensemble.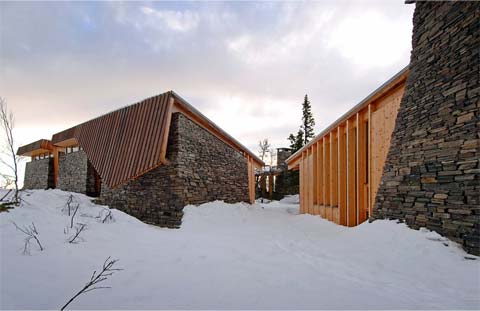 As you have perhaps already foreseen, the interior design of this project won't surprise us with contrasts or contradictions. Following the exterior, it is beautiful due to the natural materials and their confident implementation throughout the inner space.
One more example that proves, that sometimes all you have to do to create a timeless interior design is to apply expensive, genuine natural materials, like wood and stone! What I especially love are those big sized, irregular natural stone plates on the floor of the corridor, overlooking the inner yard (the latter also being similarly paved). Can you see yourself lounging there with a glass of wine after a day of skiing?