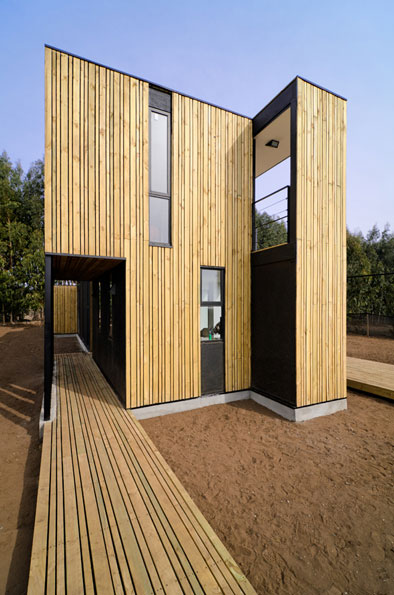 Prefab is a magical tool for architects…It´s Eco-friendly, rational and just perfect! The SIP Panel House explain all its essence in just three words: SIP stands for Structural Insulated Panels (the body of the building), Panel stands for the concept behind the construction and, finally, House stands for the programmatic reason that allows this small prefabricated home to become real and concrete!
In Santo Domingo, Chile, was born an enigmatic statement of prefabricated modules! The house has 101 sq. m. of building area where each module is arranged at a perpendicular angle and some are stacked on top of one another, creating rooms with standard dimensions on two floors.
To achieve the maximum optimization both structural and dimensional, only two components were used: wall panels and split-levels panels. The interior spaces respect the combination between two wall panels and two split-levels panels, creating spatial modules of 6 sq. m. – Impressive, don´t you agree?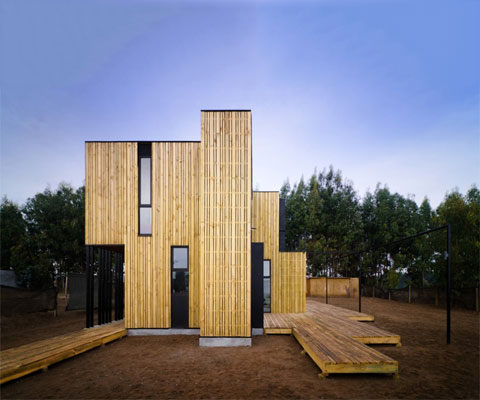 However, the journey is still half-way… A long central corridor provides access to all rooms: begins at the entrance and ends in the staircase to the first floor. The largest windows are positioned across the western facade, offering a wonderful view of the ocean…A series of modular terraces and pathways slot into the corners around the house.
Wood becomes the skin of this prefab home along with the black SIP panels, cladding walls and working also as deck for terraces and exterior circulation. All was assembled in just 10 days…with no material loss!