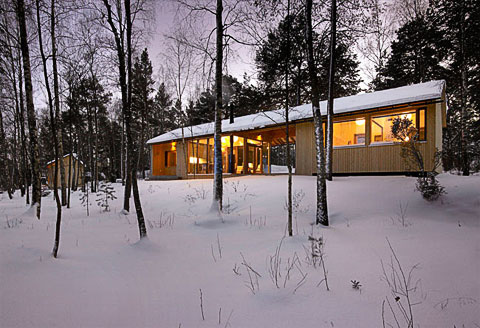 A summer cottage on a Finish island…Heaven is definitely a place on earth! In Uusikaupunki, Finland, there's a house made of childhood landscape memories. The site is located on the island's eastern shore and embraces between the ancient pine trees, two wood buildings. Villa Kallioniemi has a total space of 97 sq. m. framing views of a magnificent environment… This small cabin evokes an old building tradition, a special relation between man and nature.
Wood is Finland´s more noble material for construction, proved once again in this tiny summer home. But let's step inside to feel the quiet and solemnity irradiated by the building's atmosphere.
The path to the main building leads the visitor among old pine trees towards an open space that functions as the entrance hall of the house. This exterior covered space, connected to the living room, divides the building volume into two smaller units. A pitched roof works as the union element for this program separation.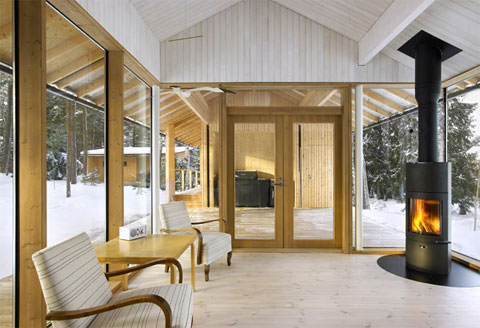 The master's bedroom is positioned in the southern extreme of the building, while the children's smaller bedrooms are located in the opposite end of the house. The small service building establishes the rest of the composition respecting the same values and materials: inspiring simplicity and, above all, worshiping wood…All interior and exterior surfaces (except the roof tiling) are made from pine wood…a symbolic extension of the outdoors brought to the interior of the cabin. However, this artificial body of wood can also provide a beautiful view to the unique seascape that surrounds the island! Could it be more tranquil than this?