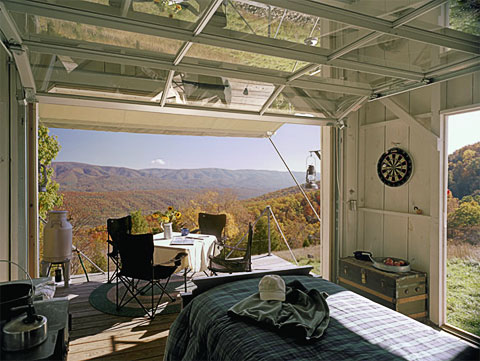 Sometimes all we need is simplicity. Sometimes in the middle of a workday, our heart demands clear thoughts and a simple lifestyle instantly! We go searching for beautiful cabins or unique vacation ideas, whereas all we need could be a simple rustic retreat in the countryside.
The retreat hut at Finkle Farm in West Virginia offers such rural life simplicity. The shed is of course stylish in its 'farm-design' look (for otherwise we definitely wouldn't be writing about it).
It is a tiny one room shack with a single-pitched roof, located on the southern slope of South Fork Mountain. The house stands on the meadow, on the edge of a forest, which makes the hut semi exposed to all four directions. Placed onto four wooden piles and thus being lifted above the ground, the shack can be entered only by a ladder, positioned in front of the door.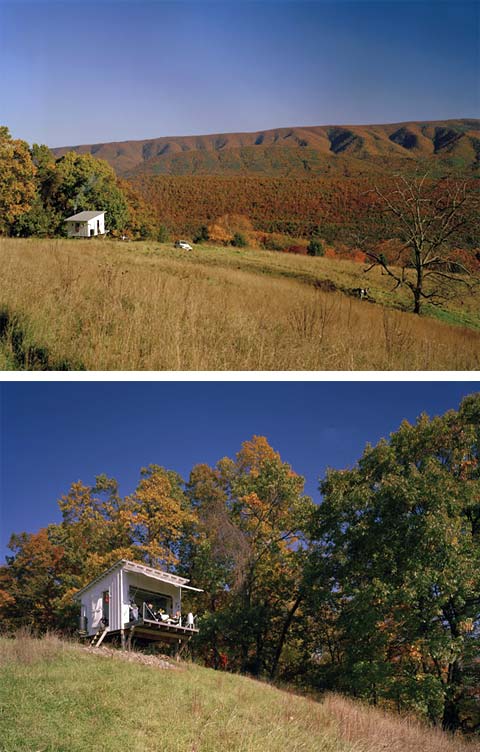 Such a romanticism of simple rural life is felt in every element throughout the house. Batten siding, traditional rough door panels, exposed rufter edges of the roof as well as beams of the cantilevered terrace – the beauty of these simple elements is emphasized by the white coating. The special feature that gives a house that tender flair of modernity is a wide garage-type glass door, which opens the cabin's inner space towards the terrace, significantly enlarging it.
Speaking about rural rusticity (last but not least): this retreat shelter has no electricity. So your stay there would be additionally romanticized by dim oil lamp light. As well as rain water shower, by the way! And as Da Vinci once said: Be open to simplicity, for it is the ultimate sophistication.