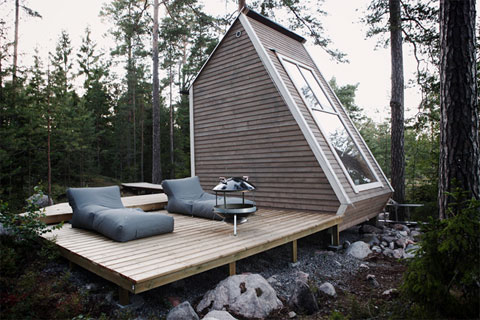 This micro cabin, called Nido, stands amidst the wood overlooking one of the many lakes in Finland. I would do anything to be there now, as the heat in the city becomes almost unbearable. But not only because of the inviting and calming nature would I like to be there. In my opinion this tiny cabin is absolutely adorable!
Its ultimate simplicity and the ingeniousness of its design amazes me. The forms, lines, and planning in general are so dramatically simple and beautiful, that I keep asking: How is it possible no one has ever created this before?
First of all, the 96 sq. ft. cabin is united with the wide decked terrace, which is situated at the gable facade of the hut. This alliance of the deck and cabin is very advantageous for both: the terrace is more protected and comfortable, whereas the cabin looks extended horizontally and more architectonic with the terrace extension.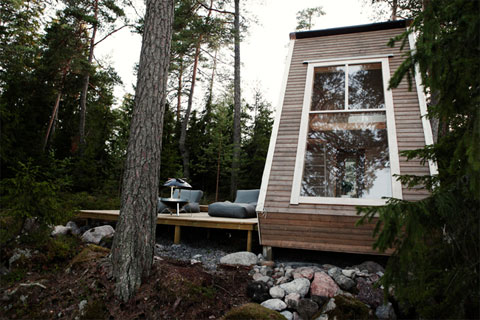 The most spectacular (yet extremely laconic like everything else here) elevation is the inclined one with the large window opening. This window gives daylight not only to the ground floor main room, but also to the lofted bedroom, situated above and perfectly fitting in the overall concept of simplicity.
The opposite elevation, the one with the entrance, is indescribably beautiful. A wooden door, contoured with a white decorative frame, and a curved decked path, leading to it – so sweet.
This cabin is very smartly designed and – as a result of designers' sense of taste and harmony – elegantly simple, don't you think? By the way, the cost of this project was approx. $10,500 + man hours.