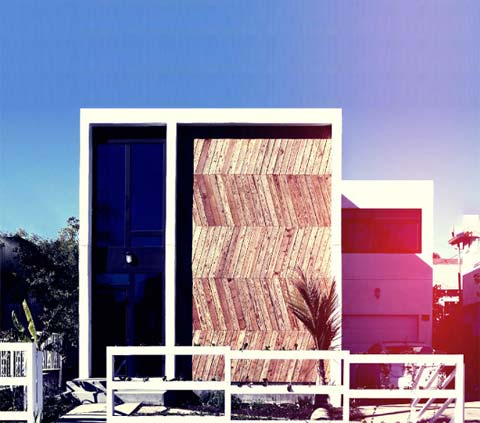 The next project is a beautiful home that can be built within 4 months. Sounds like prefab? I thought so too. But the house looks more like an exclusive villa than a prefab home. Moreover, this is a typical project from Sunia House, specifically – the S1.4G type! So how can a typical project look so stylish? Well, this is definitely worth having a closer look…
This house, called Rosemont Residence, is situated in Los Angeles. It has four bedrooms and a total area of 2000 sq. ft.. It also features a clear planning structure: the floor plans are kept very simple and balanced, which in my opinion is a great advantage for every architectural project.
The house basically consists of two 2-storied rectilinear volumes, united under a flat roof, featuring a breathtakingly stylish, yet amazingly simplistic facade surfaces. The smaller volume hosts a garage and a bedroom above, whereas the bigger body of the building embraces a living/dining/cooking open space and a guest room downstairs and bedrooms/bathrooms upstairs.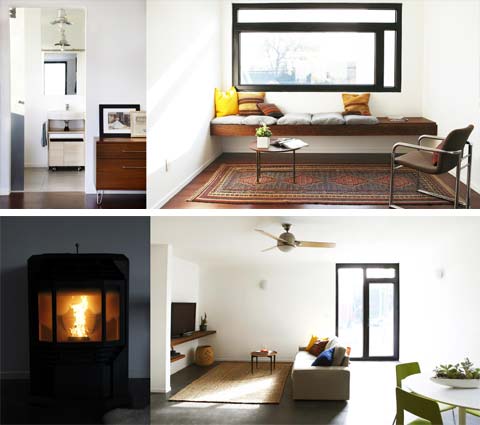 The interior design is an intelligent mixture of up-to-date interiors, timeless minimalistic shapes, white color, and warm materials, so it is hard not to love it.
But my passion still lies with the main elevation. It is so Californian. The two vast planes – one of glass and the other of smartly positioned wooden boards with a vivid wood texture – form the facade, together with the white frame they are taken into. Altogether it looks like a huge panel painting.
The wooden cladding (which looks like floorboards) seems to be charmingly out of place here, on the elevation, hinting in this manner at the pop-art objects and making the house so recognizable and so unique.