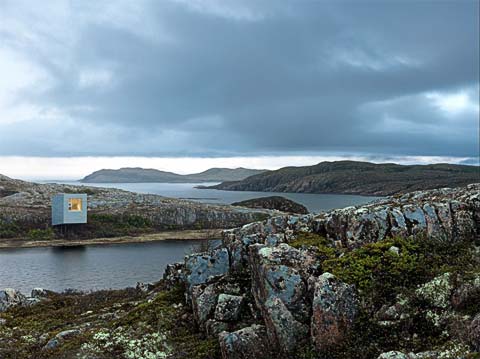 The Shorefast Foundation and the Fogo Island Arts Corporation were looking to build six artist studios in different places on Fogo Island, Newfoundland, Canada. The aim of this initiative is to help preserve local Islanders' traditions and to breathe new life into the island through art and culture.
Here is one of the studios. Oh, and do not be fooled – this is a real photograph – Boldly situated on the edge of water, the modern white cube studio looks unreal amidst the rocky and hilly, yet very peaceful surrounding.
Completed in 2011, this unique building occupies a small area of 323 sq. ft.. It's not overloaded with unnecessary design decoration, the exterior is extremely minimalistic – one big window opens towards the water, one entrance on the opposite side, with a little bridge path leading to it, white coated solid walls, and that's it. What else do you need, having such a dramatically vivid location and beautiful nature all around?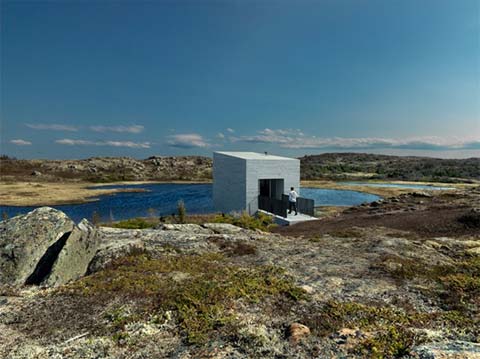 The interior design offers a lot of working surfaces all over the room, including the splendidly wide table at the window, making the studio more than a perfect place for undisturbed work! The metal fireplace will keep you warm and cozy – I wish I were an artist on the Fogo Island and owned one of these extremely cool pieces of architecture…